The Backwoods (Bosque de sombras)
(2008)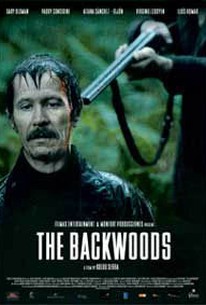 The Backwoods (Bosque de sombras) Photos
Movie Info
First-time 31-year-old director Koldo Serra's thriller The Backwoods (AKA El bosque de las sombras, 2006) re-charts thematic territory covered, in years prior, by such well-worn classics as Deliverance and Southern Comfort, and such B-grade horror pictures as Savage Island (2004). With their nuptials crumbling, a married couple from London in their early thirties, Norman (Paddy Considine) and Lucy (sensual Virginie Ledoyen of The Beach) opt to take some time out with a sojourn to northern Spain's Basque region, in the Pyrenees. They arrive at a renovated farmhouse run by Paul (Gary Oldman) and Isabel (Aitana Sanchez-Gijon) and are initially able to enjoy themselves, but the trip takes a decidedly ugly turn when Paul and Norman head out on a hunting expedition and discover a malformed, feral girl (an 'enfant sauvage') in a local cabin, apparently completely neglected. They transport her from the building in a sincere and honest attempt to help her, but only succeed in drawing forth the wrath of the savage and inbred local townspeople, who quake with rage at the thought of someone absconding with one of their own.
Critic Reviews for The Backwoods (Bosque de sombras)
Audience Reviews for The Backwoods (Bosque de sombras)
½
The Backwoods certainly wasn't what I was expecting (though I'm sure it would've been if I'd actually bothered to read the blurb rather than just go "Starring Gary Oldman? Fuckin' yep!" *buys*), and it was also significantly better than I was hoping. It wasn't dodgy, unbearably poorly acted horror, it was more of a drama than anything, though there were certainly horror/thriller elements to it. Gary Oldman's (The Dark Knight Trilogy, Harry Potter series, Red Riding Hood, The Book of Eli, The Unborn, Hannibal, Dracula) fantastic, of course, and convincing in his role. Unfortunately that's just not quite enough. Backwoods totally felt like one of those "Based on a true story" gigs where you give up at the end 'cause the end of the real story is boring and you've used everything interesting already to get people into the story. Actually that's exactly what Backwoods is like. Plus it's actually more believable than a lot of those types of movies. Bleedin' Spaniards, I swear.. There's not a whole lot to be said here. Gary Oldman's going back to his Indie roots, and that's always cool, it reeks of atmosphere, but it's kind of a non-event after all is said and done. Was pretty worthy way to spend 98 minutes, and I'll hold onto it, though I doubt I'll ever watch The Backwoods again. 53% -Gimly
½
A less traumatising version of Straw Dogs.
vieras esine
Super Reviewer
Cast: Gary Oldman, Paddy Considine, Aitana Sánchez-Gijón, Virginie Ledoyen, Lluís Homar Director: Koldo Serra Summary: An idyllic stay in the Spanish countryside takes a nightmarish turn for two couples when they discover a feral girl chained inside an abandoned house and decide to turn her over to the authorities. But the real drama begins when locals armed with shotguns show up looking for the girl. My Thoughts: "Not to bad of a thriller. Not the best film I have seen with Gary Oldman or Paddy Considine, but it was interesting enough. Your heart really goes out to the poor little girl. The story is a little slow and takes a bit to get interesting. I thought Paddy Considine stood out as the most interesting character. He has fast became a new favorite of mine. I seem to have been watching quite a few movies with him in it lately. Not on purpose. But I'm glad to have seen him in so many different roles. He's quite the actor. In the end the film is a decent thriller. Worth watching for the story and for Paddy Considine and Gary Oldman alone."
♥˩ƳИИ ƜѲѲƉƧ♥
Super Reviewer
The Backwoods (Bosque de sombras) Quotes
There are no approved quotes yet for this movie.