The Assistants
(2010)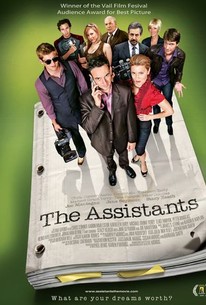 AUDIENCE SCORE
Critic Consensus: No consensus yet.
Movie Info
Tinseltown has its movers and shakers, but they all first started somewhere as The Assistants in Hollywood. The Assistants is a new movie opening December 3. It's a story about a group of Hollywood assistants who use their positions to lie, con, and blackmail their way into producing their own movie. Though it's funny, certainly, there's also great truth in it. In the film, all these twentysomethings - wannabe actors, writers, directors, craftsmen, etc. - yearn, dream, hope and pray to one day be a success in the film business like those they work for and see all around them. Be careful what you wish for - particularly in Hollywood. --© Official Site
Critic Reviews for The Assistants
All Critics (2) | Top Critics (2) | Fresh (0) | Rotten (2)
This movie about wanting to make a movie doesn't make for much of a movie.
There's no novelty or flair here to even briefly transcend overall predictability.
November 29, 2010
Audience Reviews for The Assistants
Color me pleasantly surprised by this little independent movie about a group of friends searching for success in Hollywood, while desperately trying to avoid the price of selling out (or selling their souls) that so many other people have paid in order to achieve their dreams in the biz. The group (each interested in a different aspect of movie production, including writing, directing, editing, producing, acting, and behind the scenes work), hatch a hair-brained scheme to get a movie in production by using their positions as assistant to various powerful people to manipulate things in their favor. The movie ranges from light comedy to some fairly heavy stuff. People with inside knowledge of how Hollywood often works will probably appreciate this more than others. The Assistants also doesn't look that cheap, which automatically gives it an advantage over a lot of the bare-bones indies that are being made today. I liked it. It's no masterpiece, but it exceeded my expectations by being a pretty interesting small budget flick.
The Assistants Quotes
There are no approved quotes yet for this movie.