The Arrow
(1997)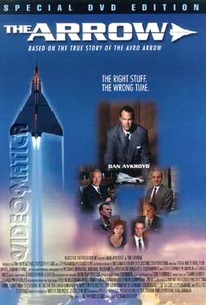 AUDIENCE SCORE
Critic Consensus: No consensus yet.
Movie Info
Dan Aykroyd stars as A. V. Roe Canada President Crawford Gordon in this four-part CBC mini-series tracing the conception and production of the Avro Arrow supersonic jet interceptor. Ron White, Lubomir Mykytiuk, and Nigel Bennett co-star in this highly successful docudrama featuring cameos by Michael Ironside and Michael Moriarty. ~ Jason Buchanan, Rovi
Critic Reviews for The Arrow
There are no critic reviews yet for The Arrow. Keep checking Rotten Tomatoes for updates!
Audience Reviews for The Arrow
This is a semi fictional made for tv movie based on the Canadian Avro Arrow. The world's first supersonic aircraft. I have read the story of the Arrow many times. During the height of the Cold War, Canada seeks to replace it's CF-100 interceptors to defend their Arctic airspace. The aircraft that they need is something so advanced that every aircraft company have turned down the contract. Minister of everything C.D Howe convinces the heads of the Canadian air force to consider Avro Aircraft. At first they say its impossible, but principle engineer Jim Chamberland comes up with a delta wing design for the aircraft. The Arrow is a well made docu-drama, and it does bring to light a lot of facts from the story. But obviously it was changed slightly to make the film more dramatic. The cast is a pretty good one, but considering the talent involved, the cast could have been better with a better script. The Avro Arrow was the most advanced aircraft in the world it was designed to intercept Russian bombers and destroy them. In the film, we get a good look at every step of the Arrow program from the optimistic beginnings to the poignant. The Arrow is a fine made for TV movie that dramatizes these events. The Arrow was the finest aircraft every made, when we Canadians designed and built it, we were 20 years ahead everyone else. Unfortunately for The Arrow, the political issues where a big speed bump for the project, and the plane never entered service. We get a glimpse of Diefenbaker's attempt at cancelling the project. Crawford Gordon (the head of Avro Canada) attempts at proving the Diefenbaker government wrong. Unfortunately The Arrow program was cancelled on February 20th, 1959. All the planes were scrapped and the employees were laid off. The ending of the film is absolute fiction as it never happened. The ending suggests that one Arrow survived scrapping and still exists. Even though this is part fiction and part fact, this made for tv film should spark interest in the real story of the Avro Arrow. Of course this flawed, but still very interesting to watch and seeing this sad but incredible story come to life on film.
The Arrow Quotes
There are no approved quotes yet for this movie.