The Ape Man
(1943)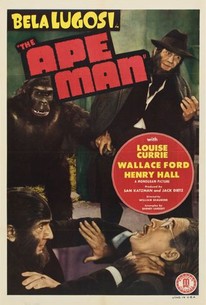 AUDIENCE SCORE
Critic Consensus: No consensus yet.
Movie Info
This paltry Monogram quickie stars Bela Lugosi as standard-issue mad scientist Dr. Brewster, who performs his diabolical experiments in a secret underground laboratory. His latest creation is a spinal serum derived from the synaptic fluid of a gorilla (exact medical purpose unknown), which he begins testing on himself. To his dismay, he begins to develop ape-like traits and a decidedly hirsute appearance, prompting him to find some way of reversing the serum's effects. Not surprisingly, it turns out the necessary counter-agent is largely based on human spinal fluid, which Brewster procures from several unwilling donors with the help of his own simian assassin. Lugosi fans will undoubtedly find this uncomfortable viewing, as the noble Hungarian film star is humiliated at every turn. The closing punchline suggests the producers didn't have a particularly high opinion of their own project either. Not to be confused with the remarkably similar (and similarly awful) Monogram project The Ape, which had thoroughly embarrassed another horror star, Boris Karloff, three years earlier.
Critic Reviews for The Ape Man
All Critics (4) | Fresh (2) | Rotten (2)
This is some family: A sister and a brother are a medium and a mad scientist, respectively.
One of Lugosi's Monogram cheapies; not very good, silly and campy.
February 14, 2003 | Rating: 1/5
Classically bad, so bizarre it's good.
August 21, 2002 | Rating: 4/5
Audience Reviews for The Ape Man
If you read the plot synopsis on here, that's really all there is to it. Lugosi is changed into an ape. This movie was stupid, I don't know why anyone thought that was a good story.
The Ape Man Quotes
There are no approved quotes yet for this movie.