The American Dreamer
(1971)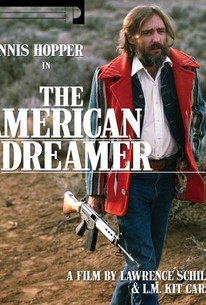 Movie Info
Dennis Hopper, who has been seen onscreen in small roles from the mid-50s, hit paydirt in Easy Rider, released in 1969. Aimed at the audience that attended Easy Rider, American Dreamer is a documentary/biography of Dennis Hopper. While this film is intended to look like it used cameras so ubiquitous that their subject has forgotten them (enabling them to reveal the "real life" of their subject), at no point does Mr. Hopper fail to take them into account. Nonetheless, a good deal of at least historical interest is shown, including an expression of his philosophy of life at the time, and one encounter in which he brings a fuzzy-minded young woman back down to earth with a thud. ~ Clarke Fountain, Rovi
Critic Reviews for The American Dreamer
Audience Reviews for The American Dreamer
½
An underground documentary about Dennis Hopper at the peak of his hippie-era hedonism sounds exciting but, unfortunately, "The American Dreamer" doesn't live up to its potential. As the film opens, Hopper has just finished shooting "The Last Movie" (a notorious bomb, following the landmark "Easy Rider"), and is amidst editing it and haggling with the studio about its content and release date. But such movie-biz issues comprise only a small portion of the film. Shaggy and thin, he's living in a desert town somewhere with other like-minded free spirits. We see him walking, driving, bathing, eating, flirting and kissing, but mostly he just philosophizes. Mind you, he has interesting things to say and doesn't come off like some rambling, incoherent stoner. He's actually quite introspective, and his articulate language confirms that his vacuous "Easy Rider" character was simply a role. (In fact, he offers a surprisingly cynical view that Billy was really no better than the rednecks who shot him -- they were just criminals of a different flavor.) But Hopper's musings grow tiresome, and there is little sense of capturing any natural reality, because everyone is so conspicuously aware of the camera's presence. Explicit quarrels about the crew's effect on behavior are even left in the film. The print I saw was brownish, faded and fuzzy, and the action contains far too many montages backed with forgotten, dated folk tunes. Everyone who can strum an acoustic guitar gets a shot in this movie. (Who the heck is John Buck Wilkin?) The editing is rough too. "The American Dreamer" is essential viewing for Dennis Hopper fans, but a failure by most general criteria.
Eric Broome
Super Reviewer
The American Dreamer Quotes
There are no approved quotes yet for this movie.