The American
(2010)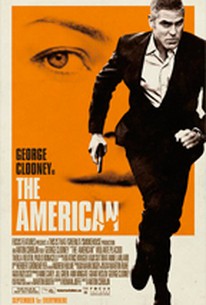 TOMATOMETER
AUDIENCE SCORE
Critic Consensus: As beautifully shot as it is emotionally restrained, The American is an unusually divisive spy thriller -- and one that rests on an unusually subdued performance from George Clooney.
Movie Info
Story: Academy Award winner George Clooney stars in the title role of this suspense thriller. As an assassin, Jack is constantly on the move and always alone. After a job in Sweden ends more harshly than expected for this American abroad, Jack retreats to the Italian countryside. He relishes being away from death for a spell as he holes up in a small medieval town. While there, Jack takes an assignment to construct a weapon for a mysterious contact, Mathilde (Thekla Reuten). Savoring the peaceful quietude he finds in the mountains of Abruzzo, Jack accepts the friendship of local priest Father Benedetto (Paolo Bonacelli) and pursues a torrid liaison with a beautiful woman, Clara (Violante Placido). Jack and Clara's time together evolves into a romance, one seemingly free of danger. But by stepping out of the shadows, Jack may be tempting fate.-- (C) Focus
News & Interviews for The American
Critic Reviews for The American
Audience Reviews for The American
½
Corbijn focuses on slowly building a suffocating tension in this quiet, contemplative and technically astonishing drama that grabbed me from the first scene till the very last - and it benefits from a more than appropriate low-key performance by George Clooney.
Carlos Magalhães
Super Reviewer
the more ive thought about this film, the more ive fallen in love with it. the american is a very non american film. in fact, if you dont have a lot of exposure to french or italian films, or if you do but you dont care for them much, you wont like this film either. the film really feels like an effective blend of antonioni and melville. clooney proves once again why he is one of our best actors, and the film has a wonderfully patient and cerebral tone and pace. the limited dialogue and character development drives me nuts in most american films, but it is a staple for european style thrillers, and with this stylized approach it works well. i cant say enough about how well this film was shot, and although some might not find the pacing effective it worked for me because of the classics of this mold that it reminded me of that i enjoy so much. there were a few moments where just a little more dialogue would have improved certain scenes and the film was not without a few of the cliches of this genre, but overall it stands as a personal favorite of mine.
½
A weapon smith specializing in custom rifles for assassination purposes falls for a beautiful Italian prostitute despite his extreme trust issues. The American is very much a thriller from the old school; it has a very 70s, continental vibe that reminded me a little of The Day Of The Jackal as the low key, almost laid back approach is a million miles away from the wobbly-cam and SFX orientated efforts of the ADHD generation. It is far more reliant on mood and characterisation and as such finds a perfect central performance from the ever reliable Clooney who can always be trusted to invest his time in projects of quality. His tentative relationship with Violante Placido side steps the usual saccharine of contrived cinematic romances and the story feels measured and honest without ever resorting to unnecessary visual spectacle. It looks fantastic and the air of subtlety and sophistication that permeates the entire film gives it a maturity so often lacking in modern cinema. Like Clooney himself, The American is intelligent, stylish and an all round class act.
The American Quotes
There are no approved quotes yet for this movie.