The All Together
(2007)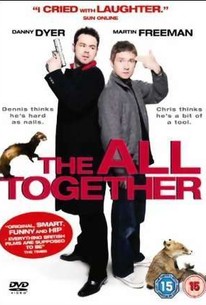 Movie Info
Martin Freeman plays Chris, a frustrated TV producer who is forced to leave his unreliable flatmate Bob in charge of showing a series of real estate agents around the house he is trying to sell. Worried by Bob's habit of spending all day working in the basement playing loud music, Chris asks his friend to listen out for the door bell and show anyone who comes calling inside. Bob promises to do exactly that and for once, not to let him down. Over the course of the day, whilst Chris struggles to cope with his insane TV presenter colleague Jerry, back at the house it is soon clear that bonkers Bob is taking his promise to Chris rather too literally. Bob has indeed, allowed anyone inside, including a couple of gun-toting gangsters, an incompetent young Brit and an incontinent American. That evening, Chris is surprised to return home and find his flatmate, four estate agents, two Jehovah's Witnesses, a corpse and a terrified children's entertainer in what remains of his flooded kitchen. Of course, a roomful of water and broken furniture doesn't mean the end of the world--but the half-crazed American sitting outside the toilet with a gun, just might.
Critic Reviews for The All Together
Audience Reviews for The All Together
Roy Gutteridge
Super Reviewer
The All Together Quotes
There are no approved quotes yet for this movie.