The Air I Breathe
(2008)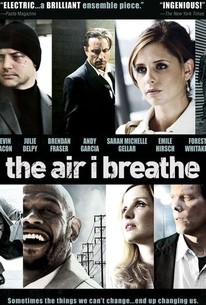 Movie Info
Four stories, representing the emotional principles of love, pleasure, sorrow, and happiness, come together in this episodic drama from first-time director Jieho Lee. A powerful crime boss, Fingers (Andy Garcia), subtly controls the destinies of four people whose circumstances have brought them to a crossroads in their lives. A quiet business executive (Forest Whitaker) is told that an upcoming horse race has been rigged and bets everything he has on his belief that the story is true. A noted pop singer (Sarah Michelle Gellar) discovers her career is hanging in the balance when she's forced to sever ties with her manager. A doctor (Kevin Bacon) must set aside a physician's traditional guidelines when circumstances demand he treat the woman he loves after a serious accident. And a criminal (Brendan Fraser) has a powerful vision of the future, but can't decide if his premonitions are to be trusted. The Air I Breathe received its world premiere at the 2007 Tribeca Film Festival.
News & Interviews for The Air I Breathe
Critic Reviews for The Air I Breathe
Audience Reviews for The Air I Breathe
½
Four stories revolving around a gangster come together. I have to quote Kyle Smith of the New York Post: "Brendan Fraser is Pleasure, Sarah Michelle Gellar is Sorrow, Kevin Bacon is Love, Forest Whitaker is Happiness, and the director is Pretension." What a hilariously true line. The film seems to want to say something profound, but I have no idea what it is. While most of the performances are fine, Brendan Fraser is grotesquely miscast. Playful and exuberant most times, Fraser is forced to adopt a stern, sullen, unaffected demeanor, and it doesn't suit him; in fact, I often hoped that he would break into a wide grin and exclaim "Just kidding" before doing cartwheels down a dark alley. Andy Garcia is bipolar, irrationally erupting into screams after delivering most of his lines in a menacing whisper, and whoever thought it original to name a gangster "Fingers" should lose a finger. I did like how the film came together. It's not near the Altman Standard, but it's more clever than I was expecting. And I also liked the idea behind the Fraser character: just because one can see the future doesn't mean that one can change it. Overall, the Post sums this film up best: it's remarkably pretentious.
Jim Hunter
Super Reviewer
Yet another done-to-death, serendipitous, connecting-the-dots kind of movie. Only reason I walked into this one is because of the names Kevin Bacon and Julie Delpy in the cast sheet, and their bit parts were over within the blink of an eye. Apparently the movie is based on some kind of theory that life revolves around four emotional cornerstones - Happiness, Pleasure, Sorrow & Love. But the only thing the movie can take credit for is in taking the audience to the realms of a fifth one - BORED TO DEATH.
a strong cast and the lead characters all portray an emotion...... The four chapters are titled Happiness, Pleasure, Sorrow, and Love, each has a main character known only by the chapters title.... happiness (Forest Whitaker) a down on his luck man who attempts to find happiness in a shady gambling hall, where things go terribly wrong. Pleasure (Brendan Fraser) a man who can see a few minutes into the future, but is frustrated at his inability to change the outcomes he sees. Sorrow (Sarah Michelle Gellar) a singer whose contract was handed over to the mob as part of a payoff. Sorrow is unhappy being owned by the mob, but leaving won't be so easy. Love (Kevin Bacon) a doctor, madly in love with his friends dying wife, she needs a transfusion, but her rare blood type is difficult to find. Love resorts to less than ideal means to obtain the blood she needs... So there you have it. Happiness, Pleasure, Sorrow, and Love. The point is that these are the four parts of every persons life and you cant experience one without also experiencing the others.,so, the four emotions are forever intertwined within us all,ok,so similarly, the four chapters of this movie intertwine, sometimes in very unexpected ways.
The Air I Breathe Quotes
There are no approved quotes yet for this movie.