The Adventures of Sharkboy and Lavagirl in 3-D
(2005)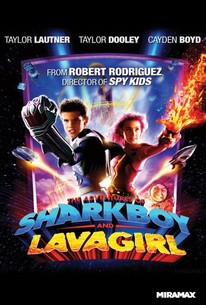 The Adventures of Sharkboy and Lavagirl in 3-D Photos
Movie Info
Writer and director Robert Rodriguez returns to the family-friendly adventure of his Spy Kids movies with this three-dimensional action opus. Max (Cayden Boyd) is a ten-year-old boy who doesn't get along with his peers and is constantly bullied at school. But Max has an active imagination, and he has a pair of very special imaginary playmates -- Shark Boy (Taylor Lautner), a human-shark half-breed cared for by a pack of great whites, and Lava Girl (Taylor Dooley), a girl with superpowers who can conjure heat and fire at will. Max may be a creative boy, but what he doesn't know is that Shark Boy and Lava Girl really do exist, and he is recruited to help them as they do battle against Mr. Electricity, a super-villain determined to deprive children of their sleep. Shot and originally released in the 3-D format, The Adventures of Shark Boy and Lava Girl also stars David Arquette and Kristin Davis as Max's parents, and George Lopez as a schoolteacher; writer and director Rodriguez wrote the film's story in collaboration with his then seven-year-old son, Racer Rodriguez. ~ Mark Deming, Rovi
News & Interviews for The Adventures of Sharkboy and Lavagirl in 3-D
Critic Reviews for The Adventures of Sharkboy and Lavagirl in 3-D
Audience Reviews for The Adventures of Sharkboy and Lavagirl in 3-D
Robert Rodriguez you are so stupid sometimes. The plot of this movie is about a kid with shark powers and a girl with lava powers who try to save a wimpy kid. This film was truly god awful, and the only reason anyone saw it because it was 3D. Its only competition at the box office was Batman Begins..... Bwahahahahahahah, thats bearly a contest.
Jim Careter
Super Reviewer
You know, it seems like I lose less and less respect for Robert Rodriguez every time he tries to make a children's film. This was horrible in every sense of the word. The acting was by far the worst I've ever seen, the plot is stupid, the special affects are lame. It just has no redeeming qualities. Lets start with the acting, though UI don;t know ehere to start considering there wasn;t a single good actor here. Let's talk about the films 2 lowlights, Cayden Boyd and Taylor Latner. Boyd is officially the worst actor I have ever seen, child or otherwise. He overacts on every line, and when he tries to get emotional? Two words. My God. Taylor Latner was pretty bad too. You can tell he was trying to be badass, like Ghost Rider or something, but it just comes out as lame and stupid. The special affects were really bad too. In fact, they are so bad, too bad, that in one scene when the main character falls on Max's fin, it bends like cardboard. As in most kids "superhero" films, the jokes were really bad. Especially the one scene where Sharkboy steps in chocalate. Sometimes, reverse psychology can be funny, but here? About as funny as Bob's Burgers, and they are REALLY unfunny. And finally, why did Sharkboy have to sing? I'm hoping that was a joke, because if it wasn't,...Let's just hope it is. Bottom line, this might be even worse than Spy Kids 3.
Marc Lewis
Super Reviewer
½
great kids film with fun effects
Michael Edwards
Super Reviewer
The Adventures of Sharkboy and Lavagirl in 3-D Quotes
There are no approved quotes yet for this movie.