The Abominable Snowman of the Himalayas
(1957)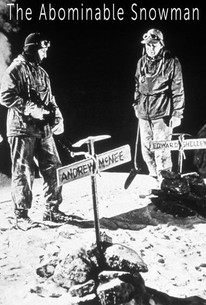 AUDIENCE SCORE
Critic Consensus: No consensus yet.
The Abominable Snowman of the Himalayas Photos
Movie Info
Based on a story by Quatermass creator Nigel Kneal, The Abominable Snowman of the Himalayas stars Forrest Tucker and Peter Cushing. Tucker plays an American adventurer, who teams with British scientist Cushing to embark upon a search for the title character. Warned that anyone who seeks out the "Yeti" is doomed to die, Tucker and Cushing trudge on regardless. One by one, the members of the expedition are killed; is the murderer human, or......?????? Partially filmed on location in the Pyrenees, Abominable Snowman of the Himalayas was produced by Britain's Hammer Films, and released in the US by 20th Century-Fox.
Critic Reviews for The Abominable Snowman of the Himalayas
Audience Reviews for The Abominable Snowman of the Himalayas
So as the title of this movie suggests, this is all about the mysterious age-old legend that is the Yeti. A fabled creature that dwells within the snowy Himalayas. And again as you may well have guessed already, this movie is all about trying to capture said creature (think [i]King Kong[/i]). Hey, its a 50's flick people. Dr. Rollason (Peter Cushing) and his wife Helen (Maureen Connell) are on a botanical expedition in the Himalayas and are staying within a monastery. Everything is going swimmingly until a second US expedition arrives lead by Dr. Tom Friend (Forrest Tucker) who are wanting to hunt down the Yeti. At first Rollason isn't convinced about going off in search of the mythical beast, but eventually he succumbs to his scientific curiosity and agrees to accompany them. Rollason thinks this is an expedition to learn and study, he is unaware that Friend wants to capture the creature for fame fortune and American way dagnabbit! As you can imagine things don't go as planned, team members start getting killed and Rollason learns Friend's true goal. So again, as you can imagine, there is a lot of dialog in this film. This film takes its time getting going with a long slow laborious build up. The monastery we find our protagonists in is of course a mixture of sets, matte paintings, and some locale work. Of course its all gonna be rather charming by today's standards but overall it's actually pretty top stuff all things considered. The sets are really quite good and atmospheric. Sure you can tell its all a set but it still looks really well detailed from the basic structure of the monastery to the intricate internal decorations and various traditional carvings. The external distance matte painting was glorious, a lovely cliff edge setting highlighted by the black and white film (always helps these old films). These sets were later utilised for a few [i]Fu Manchu[/i] films throughout the 60's which is no surprise considering how well designed and built they were. Apparently production designer Bernard Robinson, art director Ted Marshall, and draughtsman Don Mingaye studied and researched numerous books to get the look just right. I find that so darn adorable. I was quite surprised to actually see a lot of very good location work here too. I knew there would be some of course but I really just expected the bare minimum and a load of stock footage. But no director Val Guest actually did some shooting in the French Pyrenees with a team of professional climbers and a helicopter for the panoramic shots. They even used a cable car for some shots whilst going up and down the mountainous region (Pic du Midi Bigorre). Overall they did a great job with the actors all dressed correctly matching the stunt doubles footage; and the actual real climbing footage looks perfectly believable (well snowy mountains are snowy mountains). Obviously when we see the actors they are on somewhat obvious sets with somewhat obvious snow. These tend to range from not too bad looking to really quite obvious looking. Its here when the quality of the acting is really put to the test (as with all these old flicks). Can the actors make the hokey sets come alive? Can they make them come across as believable? For the most part that's a no in all honesty, but that's all part of the charm with these movies. The basic story is of course rather bland and predictable. Cushing is his usual well-spoken, gentlemanly self and never puts a foot wrong. The man is always totally engaging but if I dare to make one negative point, he (generally) always looks and sounds the same. This could be any one of his many horror/thriller characters because he generally plays the same type of chap (wonderfully of course). The rest of the team are kinda your stereotypical Yanks to be honest. They are played as somewhat aggressive, eager to set traps and use guns, no real interest in learning from this marvel of nature. As I've already mentioned it's your typical giant gorilla scenario really, the gun-toting Yanks just wanna make big money and are completely blasè over little things like safety. One good choice by Guest was to keep the Yeti hidden from view for almost the entire film. We only get to see little snippets of the animal, the odd hand, leg, arm, footprint etc...They don't reveal anything right up until the finale when we see a couple large lumbering humanoid creatures hidden by shadows. Then just when you think we won't see anything at all, we get a closeup of one Yeti's eyes and surrounding fur. I think this was perfect because chances are the entire Yeti suit may have looked crap, plus it leaves more to the imagination. I should point out that the bit of face we do see is actually pretty good, some very good prosthetic work (for the time). All in all I was relatively engaged here, but I have to admit it was a tad slow. It is entirely predictable in every way and it's not really very creepy or eerie (probably because everything was light and white). I also didn't really like the last part of the story surrounding Rollason, bit silly. Its certainly a well made production with quality acting and direction all round, just not overly exciting truth be told. Still worth a watch if you like Hammer productions.
Phil Hubbs
Super Reviewer
½
This movie is silly and predictable. An explorer goes up into some mountains somewhere and runs into an abominable snowman. It goes downhill from there, but there are a couple of exciting scenes, though.
An intelligent film, scripted by Nigel Kneale, which postulates that the abominable snowman is a near relative to homo sapiens, biding it's time until we have destroyed ourselves before taking our place. The genuine mountain footage was shot with stand-ins; the actors never left the studio. For the most part the location and studio footage is well matched. This is a much better film than its reputation suggests.
The Abominable Snowman of the Himalayas Quotes
There are no approved quotes yet for this movie.