That Uncertain Feeling
(1941)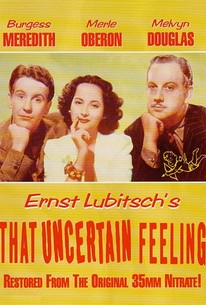 That Uncertain Feeling Photos
Movie Info
Ernst Lubitsch's That Uncertain Feeling was previously filmed by the director in 1925 as Kiss Me Again; both versions were inspired the Victorien Sardou-Emile de Najac bedroom farce Let's Get a Divorce. Six year into her marriage to preoccupied insurance salesman Larry Baker (Melvyn Douglas), Jill Baker (Merle Oberson) develops a case of hiccups. Phlegmatic Freudian psychologist Vengard (Alan Mowbray) suggests that Jill's affliction is caused by marital problems, whereupon she decides to enter into a new relationship with Vengard's star patient, hilariously neurotic concert pianist Sebastian (Burgess Meredith). Magnanimously agreeing to a divorce, Larry nonetheless remains in love with Jill, and she with him. They'll get back together, of course, but not until a multitude of delightful misunderstandings. Outside of Burgess Meredith's brilliant comic performance (obviously patterned on Oscar Levant), the film's highlight finds Larry trying to figure out the gentlest possible way to permit Jill to file for divorce on the grounds of cruelty.
Critic Reviews for That Uncertain Feeling
All Critics (6) | Top Critics (1) | Fresh (4) | Rotten (2)
Ernst Lubitsch, who produced as well as directed this sharply erotic comedy, seems to have saved up some of his best gags for a candid tale of unfulfilled desire, psychoanalysis, modern art, brazen infidelity and antiquated divorce laws.
Possibly the only lame film Ernst Lubitsch ever made.
June 16, 2003 | Rating: 2/5
Audience Reviews for That Uncertain Feeling
½
With that cast and director this should have been much better. An ordinary comedy that tries to be saucy but comes across as strained.
Although I didn't care much for the silly romance, the comedy was good for the most part, and I loved Meredeth's performance, it was unique.
That Uncertain Feeling Quotes
There are no approved quotes yet for this movie.