ThanksKilling
(2009)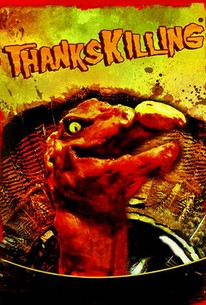 AUDIENCE SCORE
Critic Consensus: No consensus yet.
Movie Info
While on their way home for Thanksgiving break, five college kids run "afowl" of a homicidal turkey that wants them dead. As the cursed bird hunts them down one by one, the survivors scramble to find a way to defeat the possessed creature. Will the bloodthirsty turkey make this their last Thanksgiving feast ever? Writer-director Jordan Downey's holiday-themed horror spoof features an appearance by adult-film star Wanda Lust.
Critic Reviews for ThanksKilling
There are no critic reviews yet for ThanksKilling. Keep checking Rotten Tomatoes for updates!
Audience Reviews for ThanksKilling
This film is one of the rare times in horror genre where the filmmakers try to purposely create a film that is so bad it's good. Everything you see is intentional. Right off the bat, Thankskilling is a film that no one should take seriously. In terms of entertainment value, this film delivers something so cheesy that it's actually worth seeing. This is a ridiculous premise and it works. Go into this one with an open mind, you're sure to have a good laugh. The film is about a killer turkey, and yes, you heard that right. Everything is over the top, and the cast are pretty bad. However that's all part of the fun. This has got to be one of the most original low budget horror comedies that I have seen in quite some time. The special effects are cheesy and silly, and this is a picture that is sure to delight low budget film freaks everywhere. Remember that this is meant to be stupid and entertaining. Don't expect anything great with this one. Thankskilling is tongue in cheek comedic horror at its best and I haven't seen anything that rivals it in so bad it's good horror, except maybe Troll 2. The best way to enjoy this film is with friends while you're having a bad movie night. This is one of the few bad movies that actually manages to be quite entertaining due to its sheer ridiculous plot. If you want something different in terms of a horror comedy, then this is a film to watch. The film is intentionally bad, but it works because it is simply too much fun if you're in the right mood.
Quite possibly the greatest film ever committed to DV. Full of punny surreal non-sense, Thankskilling offers 66 minutes of pure cinematic bliss.
Ken Stachnik
Super Reviewer
½
A killer turkey stalks a jock, a fat hillbilly, a nerd, a naughty babe, and a nice babe in this hour long homemade Troma-style horror-comedy. It starts out with an axe-weilding turkey puppet stalking a topless Pilgrim woman; the whole thing's so proudly dumb, you'll be convinced the movie was made by actual frat boys over spring break.
ThanksKilling Quotes
There are no approved quotes yet for this movie.