Texas Chainsaw Massacre: The Next Generation
(1994)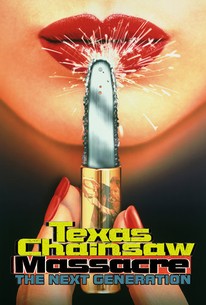 TOMATOMETER
AUDIENCE SCORE
Critic Consensus: The Next Generation has the fortune of starring early-career Matthew McConaughey and Renée Zellweger, but it services neither headliner well in a convoluted and cheap-looking slasher that doesn't live up to the Texas Chainsaw Massacre legacy.
Texas Chainsaw Massacre: The Next Generation Photos
Movie Info
More of an updated remake than a sequel to 1974's Texas Chainsaw Massacre, this slasher outing again centers on one young woman with an iron will for survival in the face of the unspeakable horrors occurring within the home of an inbred family of cannibals.
News & Interviews for Texas Chainsaw Massacre: The Next Generation
Critic Reviews for Texas Chainsaw Massacre: The Next Generation
Audience Reviews for Texas Chainsaw Massacre: The Next Generation
Where to start with this film? The bad acting, story, directing? At the time of its release, this was the film that ruined the series.TCM next generation is pretty much the same in story as the first TCM, except instead of kids investigating a grave robbing, they're travelling on a secluded road after going to a prom. The film is basically a modernized version of the first TCM film, it really follows almost everything to the letter, nothing new or original here, no scares, to be found or smart, clever Horror bits. Not to mention Leatherface is a joke now, it's a total embarrassment to Gunner Hansen (the original Leatherface) This is a sad film to watch, there's not a single part that redeems this piece of trash, and not to mention that the family of crazed maniacs tormenting Renee Zellewegger and her friends, are aliens sent to earth to do an experiment, what a sh**ty ending, the only good thing about this film, is that it eventually ends. If you've seen the last three films of the series, and you haven't seen this film, do not watch this, save your time and money. This film is terrible beyond words. This entry in the series is very forgettable and is one of the most ridiculous entries only topped recently by Texas Chainsaw 3D. This one is a more modernized version of the original with added elements are simply stupid beyond words to the point where this one is almost a parody of the original. In terms of quality horror, this one doesn't offer that and is a total waste of time. Fans of the original will most likely be disappointed and hate this film with a passion. Stick with the first three movies and avoid this film altogether.
½
Pretty well a remake of the first Texas Chainsaw Massacre movie, except done badly. Leatherface is now dressing up like a woman. Matthew McConaughey is playing the psycho brother role. The psycho with the metal leg was overly-complicated; we didn't need that. There's a hilarious woman called "Darla" in the family of killers, who provided a lot of the comedy, especially when she went through the fast-food drive-in with Rene Zellweger locked in her trunk. They added weird government conspiracy plot to this movie, which was a mistake. I liked the rooftop chase. The killings weren't too gorey in this one. I loved the ending where Leatherface chases an RV with senior citizens in it, and then is hit by an airplane! Weird movie.
Lafe Fredbjornson
Super Reviewer
I know I have said a lot of bad things about Land of the Dead, but this movie is far worse. I demand that you see this so-called remake and vommit as you watch this rape of the original!
James Alvarez
Super Reviewer
Texas Chainsaw Massacre: The Next Generation Quotes
There are no approved quotes yet for this movie.