Tex
(1982)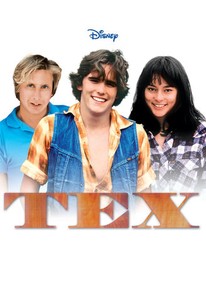 Movie Info
In this film, Tex McCormick is an Oklahoma farm boy who drifts into bad company and a dangerous lifestyle after his mother dies and his father deserts him. His older brother Mason struggles to keep his sibling on the straight and narrow, but he too has a cross to bear.
Audience Reviews for Tex
Some movies feel small, almost forgettable, yet authentic and well-made. Tex is a movie that feels real. It's not profound or self-important. It's about a 15 year old kid in Oklahoma trying to find his way in the world, as he struggles with poverty, puberty and growing up. The movie is based on a book by young author S.E. Hinton, and she somehow hits the nail right on the head again with a portrait of dusty, rural youth and the normal stuff most of us go through. Tex is poor, his mother having died when he was 3 and his father being absent or irresponsible. He is raised mostly by his much more mature older brother, Mason. Their relationship, and the pain Tex goes through when Mason sells his horse, feels real. Of course, no one knew at the time that this cast (Dillon, Estevez and Tilly) would all become young stars. Even Metzler, who plays Mason, earned a Golden Globe nomination for his role. The acting is solid, the backdrop feels authentic and vast. Heartbreak, first love, hitchhiking tragedy, and drug deals gone bad are all featured. A lot happens to Tex in this movie, but Matt Dillon handles it with aplomb. Just a solid character study of poor kids in OK dealing with not fitting in, trying to survive and the challenges of growing up.
Mark Harper
Super Reviewer
½
you git chur horse back, boy... why she's da one done convinced you to tell yer brother you love him.
Coxxie Mild Sauce
Super Reviewer
Matt Dillon has never been more subtly expressive and transparent, and maybe only funnier in Singles; Jim Meltzer is actually funny here as a straight man; there is some great camerawork and lighting. S.E. Hinton seems to be dealing with more Judy-Blume type issues here, so the movie works like a neorealist afterschool special.
Adam Mahler
Super Reviewer
Tex Quotes
There are no approved quotes yet for this movie.