Testament Of Youth
(2015)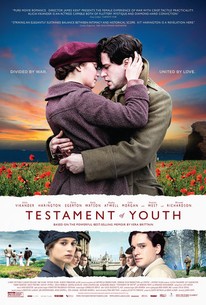 TOMATOMETER
AUDIENCE SCORE
Critic Consensus: Testament of Youth is well-acted and beautifully filmed, adding up to an enriching if not adventurous experience for fans of British period dramas.
Testament Of Youth Photos
Movie Info
Testament of Youth is a powerful story of love, war and remembrance, based on the First World War memoir by Vera Brittain, which has become the classic testimony of that war from a woman's point of view. A searing journey from youthful hopes and dreams to the edge of despair and back again, it's a film about young love, the futility of war and how to make sense of the darkest times.(C) Sony Classics
News & Interviews for Testament Of Youth
Critic Reviews for Testament Of Youth
Audience Reviews for Testament Of Youth
½
It's not an overly similar movie, but as I've recently watched Atonement, Testament of Youth gave me that same sort of touchingly effective drama with a backdrop of a world war. Obviously, the two are very differently told films. But they proved to each impress in a similar way. For Testament of Youth, this was Alicia Vikander and Kit Harrington's coming out party, at least in the film world. The latter is famous for his turn in that one certain HBO show while Vikander hadn't really done anything of notoriety before this, and she is absolutely the best part about this film. Whether it be as the tomb raiding Lara Croft, the grieving Isabel Graysmark, or the curious Ava, she is brilliant in anything she does. In fact, she's quickly becoming one of my favorite actresses to watch, merely for the sheer charisma she brings with every role. And as much as I want to commend Harrington, Taron Egerton, Dominic West (who ironically also plays her father in Tomb Raider), Colin Morgan, Hayley Atwell, and Emily Watson, no one comes close to Vikander's performance here. If this film didn't get lost in her year of Danish Girl & Ex Machina, perhaps she could have been an awards contender for this film. In fact, this may be my favorite performance of hers. Can I be anymore genuine about her utterly genuine turn? 9.0/10
Thomas Drufke
Super Reviewer
Based on the acclaimed novel, Testament of Youth is a provocative war drama that follows the experiences of Vera Brittain. After the breakout of World War I both her boyfriend and her brother enlist in England's army, and before long Vera herself feels the call to serve and drops out of university in order to be a voluntary nurse as part of England's war effort. Alicia Vikander gives an excellent performance that's quite impassioned, really capturing the character's struggles. The sets and costumes are also remarkably well-done, giving an authentic look and feel for the time period. However, there are some awkwardly inserted poetry scenes that don't really flow with the realistic tone of the film. And, the message is rather understated for such an influential novel. Yet Testament of Youth is a powerful film, and does an excellent job at portraying the unglamorous realities of war.
Dann Michalski
Super Reviewer
By necessity of source the film is structurally a little episodic, but otherwise I can't find fault in this powerful, stirring true story. The committed performances of Kit Harington and especially lead Alicia Vikander are perfect. A truly underrated film.
Daniel Parsons
Super Reviewer
Testament Of Youth Quotes
There are no approved quotes yet for this movie.