Terror Tract
(2000)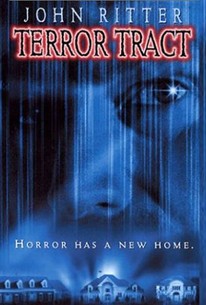 Movie Info
John Ritter stars in this three-part horror anthology as Bob Carter, a real estate salesman trying to sell a home to a pair of young newlyweds. But each of the three available houses has been the site of a grisly murder, and Bob insists on recalling the grim details of each case for his potential customers. In the first story, when a man discovers his wife is having an affair, the cheating wife and her lover murder the husband, but he gets his revenge from beyond the grave. The second story concerns a little girl who finds a lost monkey and insists the family adopt it as a pet. Her father, however, discovers the monkey has a demonic mean streak. And finally, a teenager who has been having horrible visions of brutal murders has to convince his psychiatrist that they may have a basis in fact. Also starring Bryan Cranston, Carmine Giovinazzo, and Rachel York, Terror Tract was released on DVD as a video double-feature with the inventive slasher variant Cherry Falls.
Critic Reviews for Terror Tract
All Critics (5) | Fresh (3) | Rotten (2) | DVD (1)
A solid anthology horror film that opts more for dark comedy than scares...
Terror Tract might be worth a cheap rental, but don't expect any scares, gore or even laughs.
Audience Reviews for Terror Tract
½
Boy, did this movie have a cheap, low-budget TV movie feel to it. Maybe that was the intent, I'm not entirely sure, but the fact of the matter is that the shorts in this film are cheap, low-rent, and not particularly entertaining, and it doesn't really even provide unintentional laughs. I thought the concept was decent enough, I mean it's an anthology film so there's only so much you can do with the concept, but I thought the idea of John Ritter showing a couple three houses with fucked up past was pretty cool, given the limitations. And I thought the ending was pretty good all things considered. But this was a movie that, I think, had its eyes on actually being funny and there's only one scene that I recall where I actually laughed. It was the in the climax, when John Ritter's character is stabbing David Deluise's character while telling him the benefits of living in the neighborhood. Yes, that was the only scene I found funny. And none of the stories are really all that horrific to warrant much of a mention really. I guess the best short would be the fist one, as it's the least goofy one of them all and the one with actually a pretty clever story. The other two are absolutely lame, with far more laughably bad moments than genuinely funny, or terrifying, moments. And I hate to say this because the second short, the one with the evil monkey, features one of my favorite actors in Bryan Cranston. Even he can't make this goofy ass concept work. I don't really think anything in this movie works, at all. The comedy's no good, the horror is even worse, especially in the last segment with the Granny Killer, and the cast, IE: Cranston and Ritter, are wasted in this substandard anthology horror film.
Jesse Ortega
Super Reviewer
Terror Tract Quotes
There are no approved quotes yet for this movie.