Terminator 2: Judgment Day 3D
(2017)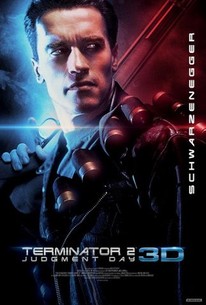 Terminator 2: Judgment Day 3D Videos
Movie Info
It has been 10 years since the events of Terminator. Sarah Connor's ordeal is only just beginning as she struggles to protect her son John, the future leader of the human resistance against the machines, from a new Terminator, sent back in time to eliminate John Connor while he's still a child. Sarah and John don't have to face this terrifying threat alone however. The human resistance have managed to send them an ally, a warrior from the future ordered to protect John Connor at any cost. The battle for tomorrow has begun....
News & Interviews for Terminator 2: Judgment Day 3D
Critic Reviews for Terminator 2: Judgment Day 3D
Audience Reviews for Terminator 2: Judgment Day 3D
½
When you're a kid, movies definitely affect you in a different way. Most notably, one's prior experience colors the way we view the images we are presented with, and if you haven't had any experience to speak of, a movie beats reality to the punch. I don't remember how old I was when I first saw Terminator 2: Judgment Day, but I was very young. So young, in fact, that it might have been one of the first non-Star Wars and non-James Bond films I'd ever seen. When I noticed that there was a recent theatrical release in 3D, an almost primal impulse drove me to reconnect with a memory-making cinematic experience from my youth. Having never actually seen its predecessor until many years later, I never felt like I needed it to understand Terminator 2, and I still hold this opinion. It does everything that a good sequel, reboot, or remake needs to do: stand on its own despite its unoriginality. James Cameron understood marketability from very early in the summer blockbuster trend. He knew that star power with memorable dialogue set in an expansive sci-fi universe would equal box office magic. Lo, and behold, that formula still works to this day. Cameron wrote the book on modern action/sci-fi cliché, and we continue to eat it up without fail. Arnold Schwarzenegger is in his theatrical prime. Cameron is too, probably trying to rinse his creative palette after the disastrous production of The Abyss. This must have seemed like a cakewalk comparatively, considering the plot is a logical extrapolation of the first film's mythos (it's easier to write from an pre-existing IP), and no one had to risk drowning every day to perform basic stunt work. Retooling Arnold as the protector role was the smartest move they could have possibly made since he is likable even as a murderous cyborg antagonist. Between the larger than life star and director, we have Linda Hamilton's definitive role as Sarah Connor (oops, I forgot, there weren't any strong female action roles until Wonder Woman). Both she and the terminator have a satisfying amount of depth. She is regaining her humanity after years of mental abuse, fear of humanity's impending doom, and a militaristic need to protect her child. Arnold, of course, is an automaton who learns to feign emotion for the sake of others - with quips. However, the real VIP for my child self wasn't Arnold or Robert Patrick's bad-ass liquid CG man, it was Edward Furlong. Sure, he might not have ended up a DiCaprio-esque success story like Dane Dehaan, but he did have the similar eye bags of a true Sunny D-sipping Gen-Xer, and he was the cursing, jaded, truant punk that 10 year old me wanted to be. I know I'm not alone in that sentiment, but it's easy to forget when you grow up and are easily annoyed by smart-mouthed, little assholes like him. Watching the opening future war-zone sequence that kicks off the movie in 3D, I was blown away at the effort put into the restoration and subsequent detail of this theatrical cut. Every week we're sold another film re-purposed to the 3D format solely for the extra 4 bucks to be made off chumps looking to get the premium grade experience. Many of these films are comprised of so many excessive visual elements that they bewilder and nauseate more than inspire and enchant. This conversion/restoration by Studio Canal is really top-notch, as it is not only one of the best 3D renderings of a traditional 2D film but a meticulously crafted visual experience as well. So you can thank the French for restoring an American classic. The movie does have its flaws, admittedly. For instance, Sarah Connor's narration is hardly the through-line it was designed to be. Some of the humor is tonally inappropriate. The liquid CG looks more dated than nostalgia will excuse. But there is still a strong emotional undercurrent between Arnold, Furlong, and Hamilton that makes the explosions and melting dude worthwhile. What Cameron ultimately manages to accomplish is something that Michael Bay and Paul W.S. Anderson delude themselves into thinking they're always doing: make an adult action movie that still does justice to a child's imagination.
K Nife Churchkey
Super Reviewer
Terminator 2: Judgment Day 3D Quotes
There are no approved quotes yet for this movie.