Teaching Mrs. Tingle
(1999)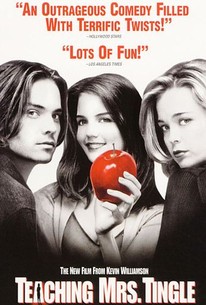 Teaching Mrs. Tingle Photos
Movie Info
After the success of Scream, I Know What You Did Last Summer, and television's Dawson's Creek, screenwriter Kevin Williamson made his directorial debut with this screwball thriller in which an honor roll student and two friends kidnap their witchy teacher. Although her single mom (Lesley Ann Warren), a waitress, struggles to make ends meet, aspiring writer Leigh Ann Watson (Katie Holmes) works hard, avoids sexual temptation, and focuses on her studies. She hopes to make valedictorian and earn a scholarship to college -- and get away from her dead-end hometown. As her senior year draws to a close, however, she's dogged by harsh grades from her vituperative history instructor, Mrs. Tingle (Helen Mirren). On the same day she finds out that she's still in second place behind fellow valedictory candidate Mary Beth Carter (Liz Stauber), Leigh Ann must endure Mrs. Tingle's fierce criticism of the final project into which she's poured her heart. After commiserating with her best friend, aspiring actress Jo Lynn Jordan (Marisa Coughlan), and hunky stoner Luke Churner (Barry Watson), Leigh Ann runs even further afoul of Mrs. Tingle; Luke stashes an advance copy of the teacher's final exam in Leigh Ann's backpack and Tingle discovers it, promising to turn Leigh Ann in for cheating and ruin her chances of a better life. When the three teens turn up at Tingle's house to try to reason with her, Luke and Jo Lynn manage to accidentally kidnap Mrs. Tingle. Soon the three students are keeping their teacher a prisoner, trying to figure out how to blackmail her into silence while maintaining the illusion that nothing strange is going on. Teaching Mrs. Tingle was filmed under the name "Killing Mrs. Tingle," but the title was changed after a rash of real-life high school killing sprees made the headlines.
Critic Reviews for Teaching Mrs. Tingle
Audience Reviews for Teaching Mrs. Tingle
½
Yes, this may have had a bunch of 90s teen stars, but that doesn't mean it wasn't also a good teen movie. The characters are relate-able, although the situation isn't. This movie has a good balance between thrills and laughs, I liked it.
½
Mrs. Tingle (Helen Mirren) is a teacher who is hated by almost everyone, including students and even most of the other faculty members. Mrs. Tingle seems to have a dislike for everyone, even if they're super smart, such as Leigh Ann (Katie Holmes). Leigh Ann must be the valedictorian in order to get a scholarship and have a chance to attend college. It seems like the only obstacle in her way is Mrs. Tingle's judgement. "Teaching Mrs. Tingle" wasn't a bad movie at all. Helen Mirren does a spectacular job playing as the dreaded Mrs. Tingle, and the movie is very interesting, especially after you find out what Leigh Ann's and two of her friends' plans are to do with Mrs. Tingle. Just as long as you like interesting movies that don't get boring, give "Teaching Mrs. Tingle" a chance! It just might teach you a lesson. NOTE: That was my Amazon review from the year 2001. Never expected to like this one much, a surprise.
Jason Owens
Super Reviewer
this was an alright movie, helen mirren is playing the teacher who is basically a bitch and is trying to ruin thiis student whose working hard for scholarship played by katie holmes and even though it has some comiic value they are short and fair between so its an watchable movie!
Film Crazy
Super Reviewer
Teaching Mrs. Tingle Quotes
There are no approved quotes yet for this movie.