Taxi Driver
(1976)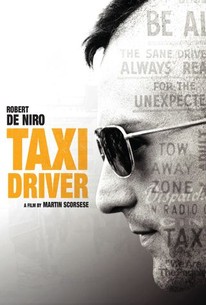 TOMATOMETER
AUDIENCE SCORE
Critic Consensus: A must-see film for movie lovers, this Martin Scorsese masterpiece is as hard-hitting as it is compelling, with Robert De Niro at his best.
Movie Info
"All the animals come out at night" -- and one of them is a cabby about to snap. In Martin Scorsese's classic 1970s drama, insomniac ex-Marine Travis Bickle (Robert De Niro) works the nightshift, driving his cab throughout decaying mid-'70s New York City, wishing for a "real rain" to wash the "scum" off the neon-lit streets. Chronically alone, Travis cannot connect with anyone, not even with such other cabbies as blowhard Wizard (Peter Boyle). He becomes infatuated with vapid blonde presidential campaign worker Betsy (Cybill Shepherd), who agrees to a date and then spurns Travis when he cluelessly takes her to a porno movie. After an encounter with a malevolent fare (played by Scorsese), the increasingly paranoid Travis begins to condition (and arm) himself for his imagined destiny, a mission that mutates from assassinating Betsy's candidate, Charles Palatine (Leonard Harris), to violently "saving" teen hooker Iris (Jodie Foster) from her pimp, Sport (Harvey Keitel). Travis' bloodbath turns him into a media hero; but has it truly calmed his mind? Written by Paul Schrader, Taxi Driver is an homage to and reworking of cinematic influences, a study of individual psychosis, and an acute diagnosis of the latently violent, media-fixated Vietnam era. Scorsese and Schrader structure Travis' mission to save Iris as a film noir version of John Ford's late Western The Searchers (1956), aligning Travis with a mythology of American heroism while exposing that myth's obsessively violent underpinnings. Yet Travis' military record and assassination attempt, as well as Palatine's political platitudes, also ground Taxi Driver in its historical moment of American in the 1970s. Employing such techniques as Godardian jump cuts and ellipses, expressive camera moves and angles, and garish colors, all punctuated by Bernard Herrmann's eerie final score (finished the day he died), Scorsese presents a Manhattan skewed through Travis' point-of-view, where De Niro's now-famous "You talkin' to me" improv becomes one more sign of Travis' madness. Shot during a New York summer heat wave and garbage strike, Taxi Driver got into trouble with the MPAA for its violence. Scorsese desaturated the color in the final shoot-out and got an R, and Taxi Driver surprised its unenthusiastic studio by becoming a box-office hit. Released in the Bicentennial year, after Vietnam, Watergate, and attention-getting attempts on President Ford's life, Taxi Driver's intense portrait of a man and a society unhinged spoke resonantly to the mid-'70s audience -- too resonantly in the case of attempted Reagan assassin and Foster fan John W. Hinckley. Taxi Driver went on to win the Palme d'Or at the Cannes Film Festival, but it lost the Best Picture Oscar to the more comforting Rocky. Anchored by De Niro's disturbing embodiment of "God's lonely man," Taxi Driver remains a striking milestone of both Scorsese's career and 1970s Hollywood. ~ Lucia Bozzola, Rovi
News & Interviews for Taxi Driver
Critic Reviews for Taxi Driver
Audience Reviews for Taxi Driver
The main theme flowing throughout the film Taxi Driver is loneliness. A person has the ability to be isolated in their own little world even while working and living in the largest city in the world. Among all of those walls making up the great brick and steel goliaths rising from the ground are the walls that a person puts around them, be it by self exile or sheer awkwardness. A whole other world may reside behind those walls an individual builds for themselves. The film follows Travis Bickle (Robert DeNiro) as he works his job driving a taxi and living in New York City during the mid-1970's. When the film begins it feels like the real pulse of the film is this job that Travis gets at the beginning, but as the film continues it becomes apparent that the job serves more as a way to feed Travis' psyche and give him a reason to believe and do the things he does. As the film progresses he gets a date with Betsy (Cybil Shepherd) that goes horribly after he takes her to a porno movie, showing us the awkwardness that Travis has in his life. This is his life and he doesn't understand the way things actually work in that world beyond his walls, which becomes an issue as the film continues onward. He also meets teenage hooker Iris (Jodie Foster) that drives him to do something good in the cesspool that was New York at the time. As the film progresses Travis begins his obsession and manages to lose control at the same time, leading to everything coming to a crescendo to end the film. Based on Paul Schrader's script, Scorsese delivers a powerful film that really pulls the viewer into the film. The way he pulls this off is casting, with Peter Boyle playing a sort of Jiminy Cricket role to Travis as Wizard, Albert Brooks as Betsy's snarky co-worker, and Harvey Keitel as a pimp. They pull off the task of being entities in Travis' world, haunting him in their own little way, but there is one piece of casting that Scorsese does best and that's showing the city in its worst or best light as he feels the film needs. Watching this film you are in New York right before the black out when the city is filled with nothing but predators and evil- which was the opinion at the time. Whether that is true or not I don't know, but Scorsese plays with that idea throughout the film. No neighborhood looks safe in Taxi Driver, even in daylight. He does such a great job at dressing the city for this film that you can almost smell the exhaust and garbage; you can feel the humidity of a city baking in the summer heat. Another piece that needs to be mentioned is Bernard Herrmann's score. It is a haunting piece that adds so much power to the images that appear in the film. Mainly consisting of a lonely saxophone playing in the night, it is the musical expression of Travis Bickle. The score for this film is one of the best I have ever heard. It's a brilliant piece from a master who would not live to see the film's release. This was the last film he would put music to. Taxi Driver is not only my favorite Scorsese film, but it is one of my favorite films in general. That feeling of darkness and being alone is a universal concept that everyone can understand. Life doesn't always build toward a happy ending. This film exemplifies that idea. I get filled with a bit of sadness when viewing this film, though. As crazy as it sounds, I regret not having the opportunity to go to that New York City. I would love to spend a night or two in the "rats nest" just to see if my concept of what it was like fits with reality. Of course it may be better to have my ideal 1976 New York in my head than to see the reality and be disappointed.
Chris Garman
Super Reviewer
Daniel J DeMersseman
Super Reviewer
½
A monumental performance and vision that is aesthetic, symbolic and emphatic. Taxi Driver highlights Martin Scorsese's illustrious direction and De Niro's masterful performance that both create a neo-noir presentation of the 1970s that's revered as both respective talents' best. 4.5/5
Eugene Bernabe
Super Reviewer
Taxi Driver Quotes
There are no approved quotes yet for this movie.