Taste the Blood of Dracula
(1970)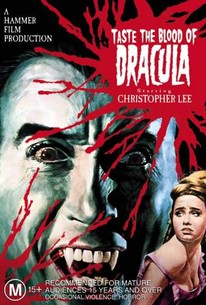 Taste the Blood of Dracula Photos
Movie Info
A Victorian English lord hosts a black-magic ceremony that resurrects Count Dracula in this, the fourth Hammer horror production to feature the notorious vampire. When the lord is killed, the vampire sets out to avenge his death, utilizing the killer's own children.
Critic Reviews for Taste the Blood of Dracula
Audience Reviews for Taste the Blood of Dracula
½
It's a typical Hammer film, filled with great gothic set deign and art direction, cleavage (and a bit of actual boobs), and of course some blood and gore, all strung together by a lurid and ridiculous plot. Picking up where its predecessor Dracula Has Risen From the Grave left off, the ending of that film is slightly retconned so as to have Dracula's demise witnessed by a guy travelling through the countryside who decides to take the Count's cloak, dried blood, and ring. Later on, that guy, Weller, sells Dracula's things to three bored wealthy English gentlemen with an interest in the occult, and, after drinking some of Dracula's blood, the three guys beat Weller and leave him for dead. He transforms into Dracula, who, upset over his servant being killed, seeks revenge on the three men. This is a nutty plot, but it does have some neat ideas. Unfortunately, the technical apects and the ideas can't ave a film if the execution is boring and subpar. I liked individual moments, but overall found this to be a bore. Heck, Dracula is barely in it, and Lee says mayeb 10 words the whole time. Of course, since he's Lee, he's got a commanding presence, even though he rarely speaks. He's a high point, and it's a hame he's got limited screentime. You can't say that Hammer made uninteresting films, that's for sure. It's just a bummer that they weren't always very competantly made or as entertaining as they should have been, which is definitely the case here.
Chris Weber
Super Reviewer
A Hammer Films Production thats is over the top, With Christopher Lee who said maybe 10 words during the whole movie, but still one of the best vampire movies of the seventies I have seen, And Linda Hayden put herself over the top as a beautiful women of the seventies. A 4 star film with a good story line.
Bruce Bruce
Super Reviewer
Just like all the other Dracula movies from Hammer starring Lee. Lee is a great Dracula, but I always wish we could see more of him in the movies, including this one. The story is somewhat similar to Stoker's original story, but not as good. This movie is really predictable and kinda stupid, but it's okay.
Taste the Blood of Dracula Quotes
There are no approved quotes yet for this movie.