Taps
(1981)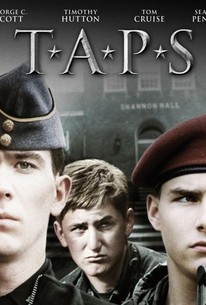 Movie Info
When an exclusive military school is threatened with demolition by a rapacious real-estate company, the students take drastic action. Utilizing every bit of military know-how at their disposal, the boys take over the school, arm themselves to the teeth, and prepare to do battle against the "invading" developers.
Audience Reviews for Taps
A smart and well-crafted military drama, Taps is a daring and controversial film. When a group of cadets at a military academy barricade themselves inside their citadel a standoff with the local law enforcement and National Guard ensues. The cast includes Timothy Hutton, Tom Cruise, Sean Penn, and George C. Scott; who all deliver excellent performances. The writing is also quite strong, and does a great job at showing the internal struggle that the cadets go through in questioning their cause and what they've been taught to believe in. The film also explores some provocative themes such as the Military-Industrial Complex and America's attitudes toward the military in the post-Vietnam era. Taps is compelling and incredibly powerful.
Dann Michalski
Super Reviewer
Taps is a decent movie but nothing spectacular. The plot is full of holes but still is entertaining. The thing that makes the movie worth the watch is the performances by Hutton, Penn, and Cruise. This is the movie that launched Penn's career and allowed him to go onto bigger and better things. This was also only Cruise's second role. The story suffers a little from the impossibilities but the performances more than make up for it and make the movie worth the watch.
Melvin White
Super Reviewer
So totally boring, I couldn't watch the whole thing. I may give it another chance one day if I hear anything good about it. There is a good cast, but other than that, it's not worth watching.
Taps Quotes
There are no approved quotes yet for this movie.