The Tao of Steve
(2000)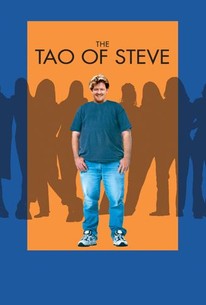 Movie Info
Dex and his friends have twisted the philosophies of Lao-tzu, Heidegger and Groucho Marx into a foolproof theory of dating, The Tao of Steve, which provides rule-by-rule guidelines for how to transform ordinary Joes into charismatic Steve McQueen's. Back in college, Dex was the big man on campus. But we meet Dex ten years after graduation as he endures one of life's great humbling experiences; the college reunion. Now an overweight kindergarten teacher, Dex is immune to the shocked stares of the young women who were once his conquests. While trying to pick up a student bartender, Dex is struck by another woman, the gorgeous Syd, who rides motorcycles and designs sets for the Santa Fe Opera. Through a series of circumstances, Syd and Dex are thrown together and he soon finds himself questioning his belief in all things Steve. As Dex falls in love with her, Sy appears immune to his charms and with good reason.
Critic Reviews for The Tao of Steve
Audience Reviews for The Tao of Steve
A different kind of romcom, but a romcom nonetheless, about the pairing of a slacker by choice with the forgotten woman from his college days who got away. Interesting dialogue, but ...
Kevin M. Williams
Super Reviewer
½
Above average comedy with an original script. Movie has a lot of philosophical references and humor which is central to the protagonist's essence, using philosophy and knowledge to sleep with women. Downfalls of the movie are casting, some of the acting is bad but the lead actor from Grounded for Life delivers. Shot in New Mexico which makes the settings more interesting and open. Good overall film.
Lenny Muggsy
Super Reviewer
½
This is the story of Dex --a once hot, now overweight, out of shape, smart but totally without ambition, ladies man who is still picking up chicks with his philosophy called the Tao of Steve. But he meets up with one woman at a college reunion who doesn't fall for his smooth lines, which makes him want her even more. It's familiar ground, but Donal Logue as Dex does a good job at making Dex seem both sympathetic and a total jerk. He seems a natural for the role, like he might actually live his life like this. I liked this a lot, and hated it too. Why? Because I found Dex funny and charming and smart, and I can see my stupid ass falling for all the tricks of the trade Dex uses to get women. All his speeches on philosophy could stir my libido as well as my brain. But I hope my common sense would eventually kick in and I'd tell his cocky, underachieving self to take a hike.
The Tao of Steve Quotes
There are no approved quotes yet for this movie.