Tall Tale
(1995)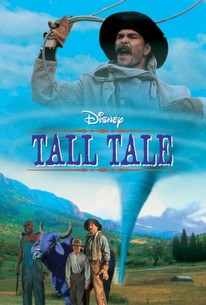 Movie Info
A youngster partners up with Pecos Bill, Paul Bunyan and John Henry to save the family farm.
Critic Reviews for Tall Tale
Audience Reviews for Tall Tale
Now, I saw part of this at school when I was a child (I'm now in my mid-twenties) and I really love action-adventure and or certain fantasy films (whether it's Disney or non-Disney). Patrick Swayze gives an amazing performance as Pecos Bill. I mean it's just a good film that will take your breath away and it took my breath away. If you enjoy films like this, you are in for a HIGH FLYING treat. I know I was (and always am when I watch this).
David Tate, III
Super Reviewer
½
Tall Tale is a terrific film with a great story and a good cast of actors. I grew up watching this film, and it's actually one of the better live action Disney films of the 90's. This is a well made film that definitely is fun for all ages. With an effective script, director Jeremiah Chechnik crafts a wonderful film with a great cast. This film is one of a few films that I enjoyed throughout my childhood. The film brings nostalgia to mind when I think of it. Really well done, and lots of fun from start to finish, the film is a wonderful experience for Disney lovers. The story is very well done, and really original. This is by far one of the best live action films that Disney has put out as others such as Jungle 2 Jungle was a horrible, poorly written and directed affair. However this film succeeds at being something special and fun for the entire family. The special effects are well done, and the cast do a fine job in their parts. This along with so many other films such as The Sandlot, Toy Story and Casper were a big part of my childhood. Tall Tale really is a terrific family film worth seeing and is certainly a film that anyone will enjoy. Oliver Platt here steals the show, and his performance was what made the film very enjoyable. Definitely a terrific live action Disney flick, and one of their better titles of the 1990's Lots of fun from start to finish, Tall Tale is wonderful entertainment definitely worth watching.
I missed this film when it originally came out. I finally saw it on Cable and was pleasantly surprised by it. I liked it. Nick Stahl must have done this film right after the Man Without A Face. Stahl is great as the lead. Patrick Swayze also shines as Pecos Bill. Stephen Lang and Scott Glenn provide solid supporting work here. It was cool seeing Jared Harris and William H. Macy in this film, before they became famous. I definitely recommend this film.
Tall Tale Quotes
There are no approved quotes yet for this movie.