Take Me To The River
(2016)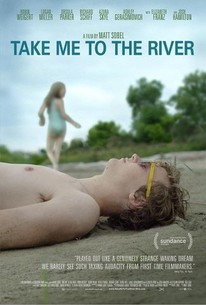 Take Me To The River Videos
Take Me To The River Photos
Movie Info
A Nebraskan family reunion couldn't seem more backwards to a gay Californian teenager. If Ryder had his way, he'd choose a moment just like this to come out, the bigger the scene the better. For his mother's sake however, Ryder agrees to keep quiet, save parading around the picnic in his most audacious pair of short-shorts. Ryder's antics raise dubious eyebrows from his hardened cowboy relatives, but 9-year-old Molly can't get enough. She follows her cool California cousin everywhere. After lunch, they walk to the barn to look for a bird's nest in the rafters. Their strange encounter, and whatever happened while the two escaped their family's watchful eyes, makes Ryder the sudden target of suspicion, and places him at the center of a long buried family secret. Anchored by a breakthrough performance by Logan Miller as Ryder and rich, dramatic turns by Robin Weigert and Josh Hamilton, TAKE ME TO THE RIVER constantly forces one to question any given character's culpability until the film's finale. The film, woven together by an omnipresent sense of dread, is the masterful debut from writer/director Matt Sobel.
News & Interviews for Take Me To The River
Critic Reviews for Take Me To The River
Audience Reviews for Take Me To The River
½
The more things change, the more things stay the same. That is supposed to be the message of this unique Sundance Film Festival winner, however any message the film intended to share was lost by it's sheer disturbing nature. Ryder (Logan Miller) is a Gay California teenager who is going with his parents to a family reunion in Kansas. Knowing that her rural family will never understand, Ryder's mother has kept that little detail from the rest of the family, much to Ryder's chagrin. Ryder rebels in his own way by wearing an outrageous outfit and keeping to himself at the family outing, only spending time with his young cousin, Molly (Ursula Parker) who wants to play in the barn. When Molly comes running back from the barn with an unusual bloodstain, Ryder earns the ire of the rest of his family and wants to tell them he's gay, but apparently being thought of as something else is even better than that. If this film displays one thing, it's that homophobia is alive and well, and that should have been more the focus of this film. While I think everyone pretty much suspected Ryder was gay, the whole situation with Molly made them think he was something else too and the focus was on that. The families reaction to it was what was even more disturbing as it ranged from what you'd expect to sheer ridiculousness. I honestly can't believe some of the things that happened in this film, as they were both disturbing and seemingly without much of a purpose. Logan Miller stars and now that I've seen him in a few other things, I can honestly say that he's the kind of actor who has to fit the role. He has this kind of whiny, emo boy personality that just doesn't fit with everything. In a film like this, if anything I'd expect him to be more outraged, emotional to the point of being over the top but he really wasn't, it was as if he didn't grasp what he was being accused of. Take Me To The River focused on a single event and just didn't let go, everything else became irrelevant. The film was disturbing, the acting was sub-par, and a lot of what happened just didn't seem to make a whole lot of sense.
Todd Smith
Super Reviewer
Take Me To The River Quotes
There are no approved quotes yet for this movie.