Tadpole
(2002)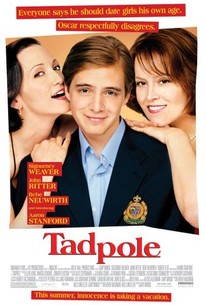 Movie Info
Most 15-year-old boys are obsessed with the opposite sex, but this may be the only area in which Oscar Grubman (Aaron Stanford) could be called typical. An honor student at an exclusive prep school, Oscar is confident, keenly intelligent, speaks fluent French, and is well versed in the work of a number of French authors, particularly his favorite, Voltaire. Oscar seems to have gotten his fascination with French culture from his mother, who several years ago divorced his father Stanley (John Ritter), a college professor, and moved to Paris. Stanley has recently remarried, taking an attractive woman in her mid-forties, Eve (Sigourney Weaver), as his new wife. Oscar, however, senses that Eve isn't happy in their marriage; certain he can give Eve the affection (both physical and emotional) that she needs, Oscar begins waging a low-key but ardent campaign to seduce his step-mother over the course of Thanksgiving weekend, despite the fact a number of Oscar's female classmates have made no secret of their attraction to him. Oscar's efforts to bed Eve attract the attention of one of her close friends, Diane (Bebe Neuwirth), a smart and sexy chiropractor who also becomes the not-entirely-unwelcome focus of Oscar's romantic attentions. Shot using digital video equipment, Tadpole was enthusiastically received at the 2002 Sundance Film Festival, where the film's director, Gary Winick, received the Director's Award.
News & Interviews for Tadpole
Critic Reviews for Tadpole
Audience Reviews for Tadpole
Sigourney Weaver and Bebe Neuwirth are cougars before there was name for it.
Sunil Jawahir
Super Reviewer
½
Mostly grating story about an arrogant, but brilliant, 15-year-old who falls in love with his stepmother. This movie tries to be edgy, a la Rushmore, but, due to a lack of likable characters, winds up being irritatingly stuffy instead.
Dean McKenna
Super Reviewer
I could rank this higher if it weren't for one thing, the film looses real ground with Oscar getting too obssesed with Eve and even rejecting offers from other women. No matter how smart and sharp a 15 year old kid can be, the chance of getting laid with fine ladies at that age is like finding gold under your bed. No teen would say no to that just because he is in love with someone. Yet, the film is quite fun to watch, especially for anyone who felt like the main character at some point over those teen years. No connection at all with people of his age, and with way too different interests. That and the taste for mature dames. Nice wet dream of a movie, could have been better. Bebe Neuwirth looks damn good in this one. Only mentally derranged and under the influence of strange medications i would have prefered Weaver over her.
Tsubaki Sanjuro
Super Reviewer
Tadpole Quotes
There are no approved quotes yet for this movie.