Syriana
(2005)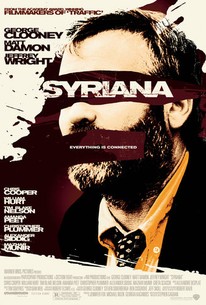 TOMATOMETER
AUDIENCE SCORE
Critic Consensus: Ambitious, complicated, intellectual, and demanding of its audience, Syriana is both a gripping geopolitical thriller and wake-up call to the complacent.
Movie Info
From the players brokering back-room deals in Washington to the men toiling in the oil fields of the Persian Gulf, a political thriller with multiple storylines that weave together showing the human consequences of the fierce pursuit of wealth and power. As a career CIA operative begins to uncover the disturbing truth about the work he has devoted his life to, an up-and-coming oil broker faces an unimaginable family tragedy and finds redemption in his partnership with an idealistic Gulf prince. A corporate lawyer faces a moral dilemma as he finesses the questionable merger of two powerful U.S. oil companies, while across the globe, a disenfranchised Pakistani teenager falls prey to the recruiting efforts of a charismatic cleric. Each plays their small part in the vast and complex system that powers the industry, unaware of the explosive impact their lives will have upon the world.
News & Interviews for Syriana
Critic Reviews for Syriana
Audience Reviews for Syriana
½
Syriana is not a film for everyone. It requires the audience to be extremely attentive, and may even require multiple viewings to be able to fully understand who is doing what, where they're doing it, and why they're doing it. The plot is so complicated and ambitious that at the beginning I found myself frustrated and annoyed that I didn't get it and that it was moving at such a slow pace. There are also multiple plot lines that never really have anything to do with each other except that the actions of one affects one of the other plot lines thus altering the outcome. But all these quibbles put aside, Syriana is a wake-up call to people who think everything is going well in the oil sectors of the world, it's got this docu-drama feel to it, and it rings true in every sense. George Clooney stands out amidst an outstanding cast. I think I'd need to see it again, and pay much closer attention to be able to fully comprehend and understand what was going on. Definitely go see Syriana, but see it when you are awake and prepared to pay attention.
Raymond Wieser
Super Reviewer
½
An exhilirating movie that is fun to watch and interesting to think about. Clooney steals the show.
Jim Careter
Super Reviewer
"Syriana" is a rubrics cube of a film and like a rubrics cube, it can be maddening, unassuming and unsatisfying. But also like the game, "Syriana" can be immensely rewarding if given the proper attention. "Syriana" is not a film for everyone, hell, it's not even a film for most fans of "Traffic" (Stephen Gagan's other complicated screenplay about an endless geopolitical issue). I read in a review that "Syriana" is like trying to follow four separate chess games at once and I believe that to be extremely accurate. The characters in the film are 'professional liars' as one puts it, making it extremely hard to track their actions, but it's in that intense conflict where "Syriana" is it's most gripping. Figuring out who is connected to who (hint, they are all connected) and tracing how the smallest decisions can lead to death is fascinating. Everything about the film rings true, from the dialogue, to the locations, to the interactions. I also was really taken in by the themes of family. "Syriana" also works as an epic family crime saga. I use the term loosely because 'families' can be created on a whim in this film. It's interesting to see how the oil business (or epidemic? or addiction?) can corrupt every aspect of a (born or self made) family. Special note should be paid to the actors with George Clooney (in an Oscar winning role), Matt Damon and Christopher Plummer standing out. What solidifies "Syriana" as the defining political thriller of the 00s is Robert Elswit's (my favorite DP) cinematography. He makes the film cohesive when it seems as if it's going to fly off the rails. "Syriana" is a film we really don't see made anyone, a political thriller that zeros in a situation rather than a person to make a statement about a problem.
Steven Carrier
Super Reviewer
Syriana Quotes
There are no approved quotes yet for this movie.