Swing Kids
(1993)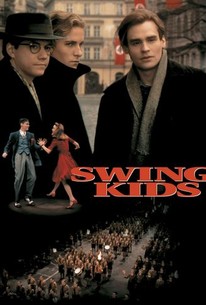 Movie Info
In 1939 Hamburg, Germany, a group of teenagers express their rebellion against Adolph Hitler's Nazi regime through their affection for American swing music, British fashion, and Harlem slang. American and British big-band jazz records are among those banned by the Fuhrer, but the young men secretly get together with their friends to listen and dance to the music. As their escapades become increasingly bold, they each get into trouble with the authorities. Robert Sean Leonard stars as Peter, who ends up being forced -- by a prank -- into having to join the Hitler Youth with his friend Thomas (Christian Bale). They are both engineering students at the university, where Thomas' father was taken away for defending his Jewish colleagues. With Arvid (Frank Whaley), they pretend to be Nazi supporters by day while rebelling with the swing music by night. Kenneth Branagh, in an uncredited appearance, is a glib Nazi Gestapo chief who makes matters more difficult. Each of the boys must choose among family, safety, friendship, and freedom as politics impinges on their youthful exuberance, and the Nazis set them against one another. The movie was shot in Prague, directed by Thomas Carter from a script by Jonathan Marc Feldman, and released by Disney. Barbara Hershey appears as Peter's mother.
News & Interviews for Swing Kids
Critic Reviews for Swing Kids
Audience Reviews for Swing Kids
Just listen to the premise and you can clearly deduce your enjoyment of this film: teenagers in Nazi occupied Germany rebel through their obsession with swing music. On the one hand, it does have historical implications , uses accurate information to draw a clear picture of how fearful the populace was of their government, and the assimilation of the peoples into a regime. On the other hand, most of the film strays from swing music altogether and instead delves into the role the Nazis took in indoctrinating their youth to believe in the Reich over decency. We're presented with three main characters: Peter, Thomas, and Arvid. All enjoy swing music, though Arvid is a cripple who plays the guitar with the band, and the others dance with gusto in a local club. None of them feel direct sympathy for the Jews, but do feel hatred for the Hitler Youth, who constantly beat up swing kids and hold raids on clubs. Peter, our main character, is pushed into joining the Youth through coercion, and Thomas does also for solidarity. The film veers into the true nature of the party, brining Peter's inner struggle to the service. This section of the film drags quite a bit, focusing more on fear and strong persuasion to discount freedom. The performances by Leonard, Bale, and Whaley were each singularly unique, and complimented each other. Still, their characters were too casually perfect for the formula needed: one is deadset against, one is conflicted, and one readily follows. It's too neat for me. Besides all that, the characters speak in Harlem slang, use the phrase "Swing Heil", and speak of swing music as an obsession, nothing else surely making any of them happy like it. This wouldn't have been so strange if all the characters weren't speaking English, when it's set in Germany, and the main evil doer played by Kenneth Branaugh didn't have a British accent. It was too much fluff in a film that should have been more about teenage rebellion, and less about taking society down with dancing, because that's all the movie is: dancing. Too strange for my blood.
Spencer S.
Super Reviewer
Typical film you catch on a Thursday morning on Hallmark or something. Troublemaking kids love jazz and swing in Nazi Germany... then they're forced to become Nazi Youth Militants or something and tragedy ensues. Christian Bale is definitely a promising actor here -OK I am biased since he's one of my favorite actors, but his performance is one of the truly entertaining things about the film. Robert Sean Leonard does a decent job, if only it did not resemble his character in Dead Poet's Society. A different, less typecast of a lead would've done the film some good. Amusing, good music and choreography, that's all!
A great movie! Excellent performances. Explores the question, Why do people become so filled with hate. A man like Hitler capitalized on the German people's need to feel superior, but he was supported and financed by the upper class who had reached such an excessive level of extravagance. Many people wanted to eliminate outside influence because they thought purely German culture was the only culture worth furthering. There was a dangerous nationalism that said everything had to be for the 'fatherland'. And this movement gained muscle from the youth. Young men who felt inadequate, who felt they were never good enough to earn the love of their fathers started finding purpose in the Nazi propaganda. Young men whose fathers had been snatched away for questionable ideas and acquaintances, who questioned if their fathers loved them less because they let themselves be taken away found a replacement father in the 'fatherland'. Young men who thought they were superior to cripples and Jews and people of other cultures who seemed strange to them discovered power in the praise and things they were given. Who knows what other reasons led to so many people being filled with hate or complacency at this moment in history. Robert Sean Leonard's inner turmoil is vividly portrayed as he comes to fully realize the extent of the Nazi's evil acts and discovers that his father loved him more rather than less by speaking out against the terrible things he saw developing years earlier. Frank Whaley as the consummate artist who is not fit for the Hitler Young and therefore doomed to become a target for their crushing force is touching as well. And Christian Bale as the spoiled rich kid who is always insulting and boisterous yet craving positive feedback is tragic as the one who too easily absorbs the hateful messages and can't see clearly until it is too late. The Swing Heil ending is a little corny, but the music and dancing throughout the movie is great to watch and listen to. Swing music takes on such a symbolic deeper meaning for appreciation of diversity and an outlet for a strong passion and love.
Byron Brubaker
Super Reviewer
Swing Kids Quotes
There are no approved quotes yet for this movie.