Swimming Pool
(2003)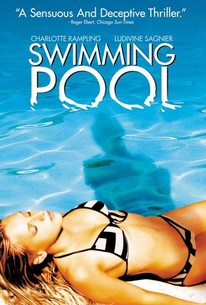 Movie Info
Sarah Morton is a famous British mystery author. Tired of London and seeking inspiration for her new novel, she accepts an offer from her publisher John Bosload to stay at his home in Luberon, in the South of France. It is the off-season, and Sarah finds that the beautiful country locale and unhurried pace is just the tonic for her--until late one night, when John's indolent and insouciant French daughter Julie unexpectedly arrives. Sarah's prim and steely English reserve is jarred by Julie's reckless, sexually charged lifestyle. Their interactions set off an increasingly unsettling series of events, as Sarah's creative process and a possible real-life murder begin to blend dangerously together.
Critic Reviews for Swimming Pool
Audience Reviews for Swimming Pool
½
An absorbing and highly stimulating film that intriguingly dissolves the barrier that separates reality and fiction to tell a strange story about that point of an artist's creative process when she has to search inside herself to reach that sparkle of inspiration that eludes her.
Carlos Magalhães
Super Reviewer
An author vacations at her publisher's French summer home and meets his daughter, a brazenly promiscuous young woman who becomes the subject of her new novel. Ludivine Sagnier sizzles every moment she's on screen, but Charlotte Rampling, who always seems to be troubled by some hidden existential quandary, fizzles. The story is far from interesting, and it's only Sagnier's allure that keeps our attention on the film's characters: after all, when we boil this story down, it's merely about a woman briefly seduced by youth. The end. The third act is mostly senseless, and the final reveal is "senseless-er." Overall, maybe it's only Sagnier's eyes and body and charm and eroticism that kept me interested in the film, but that's good enough for two stars.
Jim Hunter
Super Reviewer
A stylish but ultimately somewhat disappointing exercise in writing, insanity, and the strain two very different people encounter living in the same vacation home. Think "The Odd Couple", only darker, nuder, and much more slower-paced, the film's overall style and masterful performances really help make somewhat mundane material watchable. Rampling is especially impressive as a writer trying to find inspiration for a new story, and maybe finding that in the town whore (Ludivine Sagnier), who just happens to be her publisher's daughter living with her for the time being. The ending does have a twist to it, although it is not as creative and mind-boggling as it thinks it is (I had two theories as to how it was end, one of them was right). Still, director Francois Ozon's feel for the camera and space is irrefutably remarkable, and the only thing that keeps this thing from being watchable is a near third-act collapse and a finale that is predictable. Still, not a bad film at all, probably worth watching if you are a French-art film fan.
Dan Schultz
Super Reviewer
Swimming Pool Quotes
There are no approved quotes yet for this movie.