Swimfan
(2002)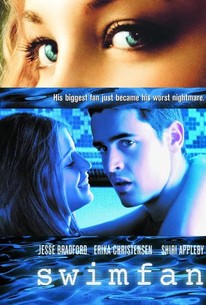 Movie Info
A moment of temptation leads to a high body count and untold regrets for a high-school swimming star in this thriller starring Bring It On's Jesse Bradford and Traffic's Erika Christensen. Despite a shady past involving drugs and the juvenile justice system, Ben Cronin (Bradford) seems to have it all: a loving mother, a devoted girlfriend (Shiri Appleby), and a shot at a college scholarship in California. But the same week that athletic scouts will be deciding his future, Ben finds himself embroiled in a flirtation with Madison Bell (Christensen), a bewitching transfer student who seduces him into supposedly strings-free sex during an impromptu swim lesson after hours in the school pool. When Ben takes Madison at her word and goes about his business as if nothing had happened, she insinuates herself into his life with sinister glee. Showing up at Ben's house, befriending his girlfriend, and sending him naked pictures -- none of her strategies wins his heart. So Madison turns to other, more devious forms of courtship. Soon, Ben finds himself kicked off the swim team for supposed steroid use, suspected of murdering a rival (Clayne Crawford), and rejected by his girlfriend for his sexual indiscretions. Eventually, though, he receives help in uncovering the genesis of Madison's uncanny fixation from an unexpected source. Originally titled "Swimfan85" (after Madison's Internet screen name), the retitled Swimfan hit the top spot at the back-to-school box office when it was released September 6, 2002. Dan Hedaya co-stars as Ben's stern but loving mentor, Coach Simkins. Actor-turned-director John Polson previously helmed Siam Sunset. ~ Brian J. Dillard, Rovi
Critic Reviews for Swimfan
Audience Reviews for Swimfan
An ok well shot, thriller aimed at the MTV generation. Yes this has been done a few times, Fatal Attraction set the bar, and the twists are quite predictable. However if you like thrillers of any sort you'll probably like to see this once.
½
Swimfan has gotten a lot of flack due to it's similarities with Fatal Attraction. In fact it's been called a teen version of Fatal Attraction. I haven't seen Fatal Attraction so I couldn't compare, but this an average thriller with decent enough acting. I wouldn't say great, but certainly isn't awful. If you know the story of Fatal Attraction, then Swimfan follows the same path. Nothing original. I can't say that Simfan is a great film, because it isn't. But the film entertained me and it did have something going for it. But this is a pure, mindless thriller that follows the fatal attraction formula. The cast do what they can with a derivative script, and it feels at times lazy, and it shows. Swimfan is a guilty pleasure, and I admit I liked it somewhat cause it was entertaining, but it was fairly borderline average most of the time. Swimfan is the type of film that should be seen when you're bored and you're looking for something mindless, then Swimfan is the film to watch. But be warned, you won't find anything great in this film, maybe it'll entertain you, and and the same time you'll feel that theres something missing. I find the film to be borderline good and I;'d give a 5 out of 10. This may not be the best film, but I've seen my fair share of trash, and this is far from the worst film ever made. Swimfan is what I'd a guilty pleasure film, and it most certainly should be seen that way.
½
A very underrated edge of your seat thrilling romance of a film. I can't say I love it, but it is very good. Jesse Bradford has not had the chance of being in many good films, and yet, this is one of his best.
Swimfan Quotes
There are no approved quotes yet for this movie.