The Swarm
(1978)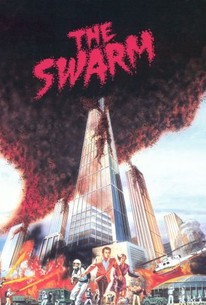 Movie Info
Killer bees migrate to the United States from Africa via South America in this disaster film produced and directed by the genre's chief architect, Irwin Allen, and written by Stirling Silliphant, scribe of The Poseidon Adventure. Haughty entomologist Brad Crane (Michael Caine) shows up at a secret military base full of dead soldiers, shocking the attendant General Slater (Richard Widmark). Crane announces that the soldiers are the victims of killer bees with amazingly potent venom; he's been tracking huge swarms of the things and fears they'll kill millions before they're through. Eventually, the president asks Crane to lead the battle against the killer insects and he assembles a team of crack scientists. Meanwhile, the bees overpower a family picnic in nearby Marysville; only the son, Paul (Christian Juttner), escapes with his life. Crane and military physician Helena Anderson (Katherine Ross) head to Marysville to warn the populace about the impending danger. Among the citizens in the direct path of the bees are schoolmarm Maureen Schuster (Olivia de Havilland) and her competing suitors, Felix (Ben Johnson) and Clarence (Fred MacMurray). Eventually, the bees stage a massacre in Marysville and then set their sights on Houston. Neither pesticides, firebombing, nor the heroic sacrifice of scientist Dr. Krim (Henry Fonda) seems to offer a solution for the impending disaster. Universally reviled by critics, The Swarm failed to continue Allen's winning streak at the box office. Caine would re-team with his director the following year for Beyond the Poseidon Adventure.
Critic Reviews for The Swarm
Audience Reviews for The Swarm
"...and on top of everything else you've got to worry about, now there's deadly killer bees, too!" Not to worry, bunkie, 'cause Irwin Allen's got your back with this stress relievin' answer to that particular worrisome concern. The actors (and there's a crapload of them, like a landfill of old actors particularly) shout their lines, lines that're hackneyed and shallow, in an attempt to convince you that they care about this crisis, that they care about this movie, but it's a laugh. Like sad laughter. Allen seems the big screen version of teevee schlockmeister Aaron Spelling, and this film, at best, an auto accident on the freeway - stop looking and just keep moving, please. Please. Okay, okay, it could be considered a fun guilty pleasure. That's a possibility.
Kevin M. Williams
Super Reviewer
The Swarm is a mindless and amusing nature gone wild, horror disaster film with killer bees. With an all star cast that deliver some good performances, but nothing ever too serious due to its plot, it plays out as low budget B movie fair that you simply can't take seriously. The cast are quite good in their parts, but this was made at the height of disaster movies, as they were very popular in the 70's. This one has more of a horror flavor to it, and I would say it does posses some comedic tones as well. If you love these types of films, definitely check this one out. Other viewers may not enjoy this, and I would recommend this one purely for midnight film buffs who enjoy tongue in cheek films. Nature Gone Wild films are always fun and entertaining for their concepts and plots. The Swarm is pretty far-fetched; nonetheless if you're in the mood, you'll surely enjoy this flick. Just don't take it seriously whatsoever. The Swarm is entertaining for what it is, and though it's ridiculous, it's worth seeing if you enjoy these films. The cast are good in their performances, and each of them brings something that makes this film so engaging. The film has had its Fir share of flack, with good reason, but it's nowhere near as bad as what many reviews have said about it. Go into this one expecting an amusing thrill ride that is well acted and a tongue in cheek storyline, and you might like it. The Swarm is a memorable addition to the nature gone wild genre of horror films, even if it's not the best, it's still entertaining.
½
This movie is full of stars, but thin on plot. What is interesting about it, though, is that it is a combination of a disaster movie and one of the batch of 70s movies that emulated the style of the 50s sci-fi/horror movies. Although the mixing of the two genres is interesting, the characters and story aren't as interesting and it doesn't end well.
The Swarm Quotes
There are no approved quotes yet for this movie.