Surfwise
(2007)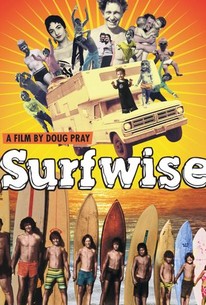 Movie Info
"Surfwise" follows the odyssey of 85-year-old, legendary surfer Dr. Dorian "Doc" Paskowitz, his wife Juliette, and their nine children--all of whom were home-schooled on the beaches of Southern California, Hawaii, Mexico and Israel. They surfed every day of their lives and were forced to adhere to a strict diet and lifestyle by their passionate and demanding, health-conscious father. What happens to eight brothers and a sister that are raised under such extraordinary circumstances? "Surfwise" is the story of a man who pursued his dreams and dragged his family along for the wild ride.
Critic Reviews for Surfwise
Audience Reviews for Surfwise
½
After watching Surfwise; I don't know what to think of "Doc" and the way he raised his children. All I know is that I wouldn't have wanted to grow up that way. Doc seems like he had the best intentions, but still have this feeling of hate towards the way he chose to bring up his children. I don't understand how he can think he did the right thing. He closed them off to the world and prevented them from getting an education. He wants us to believe that they got the education they needed and that public education is not important. I liked listening to his kids talk about their experiences and how it affected them, but I hated having to listen to Doc speak his weird views on life. Even with how I feel about Doc's choices and beliefs; I still don't think he is a horrible father. He was with his kids, and he obviously loved them. He just didn't allow them the basic freedoms most kids have. He kids called him a dictator. Surfwise is a well-made and entertaining documentary about a "different" family and the ways it affected all of them.
Melvin White
Super Reviewer
A sad film chronicling the unconventional lifestyle of one of surfing's leading families. Sad, because although their childhood was an idyllic bohemian dream that most kids would die for, none of the Paskowitz kids were prepared for life. Still, it was interesting to hear each of them talk about the way they lived, and to hear Doc Paskowitz, a Stanford educated doctor, talk about his philosophy and explain why he raised his family as he did. Interspersed with the interviews, was what appeared to be home-movie footage and newspaper clippings of the family as they lived the adventure of raising nine children as nomads and traveling the continent in a 24-foot motor home.
Mark Abell
Super Reviewer
[font=Century Gothic]"Surfwise" is an engaging, if not substantive, documentary about Dorian ' Doc' Paskowitz who graduated from Stanford University with a medical degree but fearing the good life, dropped out and took up surfing. After introducing surfing to Israel and failing to enlist in the country's paratroopers, he proceeded to get married for the second time to Jeanette. Together, they would eventually have nine children who were all raised in a 24 foot camper, traveling wherever his whims took them while basically focusing on surfing. These cramped conditions forced them to maintain a certain level of hygiene and the lack of privacy made the parents' energetic sex life a bit disturbing to everyone else. As hard as life was due to being perpetually broke, nobody starved. They eventually settled down to a degree with the establishment of a surfing camp and the children became expert surfers, winning their share of trophies.[/font] [font=Century Gothic][/font] [font=Century Gothic]In this tale of man versus society, all good things must come to an end. And whereas I admire Dorian for finding another path, it is not for everyone which is the conclusion his kids came to as they became adults. However, his idea of an education did not prepare them for life in a structured world, most settling for life in music or on the waves. No matter how tyrannical or possibly abusive Dorian was, all nine of his children participate in the documentary but it has been ten years since they have all been together in the same place.[/font]
Surfwise Quotes
There are no approved quotes yet for this movie.