Surfer, Dude
(2008)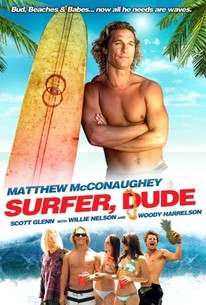 Movie Info
Hands on a Hard Body director S.R. Bindler directs this wave-twisting tale of a soul-searching surfer (Matthew McConaughey) in the midst of an existential crisis. Steve Addington (McConaughey) is an herb-toking long-boarder with a keen sense of balance and a mellow outlook on life. Upon returning to his hometown of Malibu to spend the summer with old friends, Steve begins to sense that the good vibes he remembers as a boy have been hopelessly corrupted by the powers that be. When the earthen surfer is faced with the prospect of expanding into virtual-reality video games and reality television or risk being rendered irrelevant, he opts to keep riding the majestic Southern California waves rather than participate in this new digital reality. Fate seems to intercede, however, when the ocean simply ceases to produce any suitable waves. His finances dried up, his sponsored expense accounts suddenly canceled, and his friends flocking off to bluer pastures, the surfer without a wave suddenly realizes that he has but two choices in life: he can either sit tight and try to keep his sanity until the waves come rolling in again, or finally give in to the Man and his intoxicating world of artificial amusements. Perhaps with a little wisdom from his trusted manager (Woody Harrelson), his aging mentor (Scott Glenn), his guardian angel (Willie Nelson), and his newfound muse (Alexie Gilmore), Addington can somehow manage to maintain his mellow just long enough to put it all into perspective and get back to the basics.
News & Interviews for Surfer, Dude
Critic Reviews for Surfer, Dude
Audience Reviews for Surfer, Dude
½
Dumb but harmless. Go into it with no expectations but that it will be a throwback to late 70's-early 80's mindless flicks like The Malibu Bikini Shop and it's ilk and you're in the right frame of mind for this.
It's a pretty alright summer movie. One of those 'do what you love and the rest will fall in to place' films. I can dig it and I can't get enough of the surfer vibe ever since i saw POINT BREAK LIVE.
Alexis Nomm
Super Reviewer
OH MY GOD! This movie is so bad that it deserves to be likeable for laughing at. Matthew McConaughey digs an extremely large hole to die in in this film. He is one of the worst actors ever. He was funny in Fool's Gold, but then he went to bed. This movie is one of the worst movies I've ever seen period. Damn I wish I could have seen this coming before I watched it! There is no reason why it should have been thought of!
Surfer, Dude Quotes
There are no approved quotes yet for this movie.