Supporting Characters
(2013)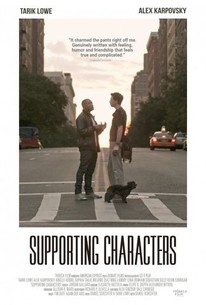 Supporting Characters Photos
Movie Info
Best friends Nick (Alex Karpovsky, "Girls") and Darryl (co-writer Tarik Lowe) are a New York film editing duo hired to salvage a botched comedy from a manic director (Kevin Corrigan, PINEAPPLE EXPRESS) gone AWOL. But what starts as a simple job quickly sends their relationships-with their significant others and each other-reeling. Amidst trouble with his fiancée (Sophia Takal, V/H/S), Nick finds himself falling for the film's flirtatious ingénue (Arielle Kebbel, "90210"); Darryl, meanwhile, struggles to focus on his editing work in between fights with his tempestuous girlfriend (Melonie Diaz, Be Kind Rewind). With real humor and heart, Supporting Characters offers a sharp, knowing take on life and love in the big city. (c) Tribeca Film
News & Interviews for Supporting Characters
Critic Reviews for Supporting Characters
Audience Reviews for Supporting Characters
Supporting Characters is entertaining enough and it does remind me of Woody Allen films (though minus the charm). It is the type of film that many people will love and others will hate. Supporting Characters is not really plot-driven nor is it episodic but somewhere in-between and at the end it fades out. Characters themselves have a smugness that will irritate some viewers though I find it tolerable (it is how people are). The main strength is wittiness/cleverness of the dialogue. It's uneven but the positives outweighs the negatives and overall the film works for me.
Robert Brogan
Super Reviewer
In "Supporting Characters," Nick(Alex Karpovsky) gets to sleep in while his fiancee Amy(Sophia Takal) goes to work. That's not to say he has it easy because he and his partner Darryl(Tarik Lowe) have their work cut out for them in editing Adrian's(Kevin Corrigan) movie. On the other hand, Nick gets to work with the beautiful Jamie(Arielle Kebbel) in re-recording some of her dialogue. As a movie about film editors, "Supporting Characters" suffers in the shadows of Albert Brooks' previous "Modern Romance." That's not say "Supporting Characters" it not without its share of pluses, namely being an amiable romantic comedy with a likable cast. It also has a sweet conversation centered around "Indecent Proposal." But just as "Supporting Characters" seeks to show how important editors are to putting together a film, it also gives a tutorial in how not to edit one, which is namely illustrated by the movie's inconsistencies.
Supporting Characters Quotes
There are no approved quotes yet for this movie.