Superman IV: The Quest for Peace
(1987)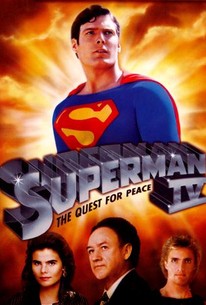 TOMATOMETER
AUDIENCE SCORE
Critic Consensus: The Superman series bottoms out here: the action is boring, the special effects look cheaper, and none of the actors appear interested in where the plot's going.
Superman IV: The Quest for Peace Photos
Movie Info
Superman (Christopher Reeve) tries to save the world from nuclear destruction at the hands of Lex Luthor (Gene Hackman) in this action film featuring the man of steel. In a speech to the United Nations, Superman declares he will rid the world of all nuclear weapons. Arch-villain Luthor emerges from prison obsessed with killing Superman and creates an adversary known as Nuclear Man (Mark Pillow). The two engage in a fight to the finish in various landmarks on Earth before taking their battle into outer space. When Lois Lane (Margot Kidder) invites both Superman and Clark Kent to a double-date dinner, Superman's powers are tested so that both men can be present. Jackie Cooper plays the gruff veteran newspaper editor Perry White, with Marc McClure as Jimmy Olsen. Sam Wanamaker plays tabloid tycoon David Warfield, the millionaire who buys the Daily Planet. Mariel Hemmingway is Warfield's daughter Lacy, Clark Kent's date at Lois' luxury apartment. This is the least interesting of the four Superman movies starring Christopher Reeve. ~ Dan Pavlides, Rovi
News & Interviews for Superman IV: The Quest for Peace
Critic Reviews for Superman IV: The Quest for Peace
Audience Reviews for Superman IV: The Quest for Peace
What can be said about this film that hasn't already been said, it is very much the 'Batman and Robin' of the Superman franchise and proceeded to kill the franchise until 2006. Not only is it the worst of the franchise but 'Superman IV' also represents the absolute bottom of the barrel as far as superhero movies are concerned. The plot plays out like a very bad Silver Age comic, with a cringeworthy heavy-handed 'Captain Planet'-esque anti-nuclear weapon message, beyond cheesy plot consisting of multiple meaningless subplots, mediocre effects-driven action sequences that induce laughter rather than suspense, and actors who seem more disinterested than the next. Even Christopher Reeve seems to be tired of the role that once launched his career nine years prior. Gene Hackman's reprisal as Lex Luthor brings a couple smiles but he is not nearly in the movie enough to elevate it. The film's actual villain, Nuclear Man, looks like a blond curly-haired Fabio Lanzoni with silver press-on nails. It is a complete failure as a film but if you can gather a few of your friends together, it can be very enjoyable just to do a MST3K beat-down on this absolute garbage of a flick.
Christopher Heim
Super Reviewer
Was this really the way they wanted to finish this series of films? Honestly? I definitely don't think this is what the creators had planned from the beginning. Going completely against all the comics and story lines, "Superman IV: The Quest for Peace" has the worst script, the dumbest plot, and the most laughable villain of all. Above all, Christopher Reeve doesn't even seem like he really wants to be there. The first two Superman pictures truly show what is meant to be seen from these stories and the third hit a pretty weak slope, but this scream bad all the way through. The direction is sloppy, the effects are worse than ever, and the classic Superman transformations are so lazy that I almost shut this movie off. This is the worst Superman film by far, the worst superhero film I have ever seen, and one of the worst films in general that I have ever seen!
While the first couple of Superman entries were something very entertaining and fun, this fourth film is basically an awful mess from start to finish. The filmmakers should have called it quits after the third film. I really can't see why this film made as it fails to capture anything that made the first two films great. Acting wise, the cast seem bored and there is no standout performance here. Christopher Reeve should have hung his cape and called it a day. However they had to eke out a fourth film, and in turn it was a tired, lazy affair that simply doesn't pay off for the audience looking for something wonderful to watch. Director Sidney J. Furie directs this failure and it should be no surprise at the result because Furie is an incompetent director who can't seem to direct an entertaining film. Don't expect anything with this fourth film as it scrapes the bottom of the barrel of ideas. There's nothing interesting going on on-screen and the cast simply don't deliver. Usually in a franchise, a fourth entry will show its lazy qualities and lack in terms of original ideas. That is very much the case with Superman IV. If you love Superman check out the first two films and give the third one a view, but don't expect anything as good as the first two. With this one, expect a crap fest that is sure to disappoint and one that just doesn't have any redeeming factors whatsoever. I hated this film, and think it should never have been made. The only good thing about this film is that it is the last in a series that was once great, but that with every film the studio made, the ideas would start to feel strained, and that simply made the series a tad too silly. A big disappointment.
Superman IV: The Quest for Peace Quotes
There are no approved quotes yet for this movie.