Supergirl
(1984)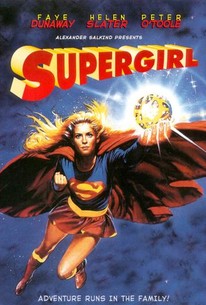 TOMATOMETER
AUDIENCE SCORE
Critic Consensus: The effects are cheesy and Supergirl's wide-eyed, cheery heroine simply isn't interesting to watch for an hour and a half.
Movie Info
A big-budget spin-off from the series of three successful Superman movies, this film stars Helen Slater as the counterpart to the famous comic-book superhero. Supergirl is Kara, Superman's young cousin. She is sent to Earth is search of a Krypton power source, a lost ring that has been turned into a paperweight. She disguises herself as Linda Lee, a meek high-school student. Peter O'Toole is Zaltar, a mad villain who wants to use the power of the ring to take over the world. Faye Dunaway plays the evil sorceress Selena, who is also plotting to get the gem and uses her incredible powers of black magic in service of her scheme. Linda Lee meets Ethan (Hart Bochner), who is under a spell cast by Selena, which causes him to fall in love with the first person he sees. Selena had intended to use the spell to make Ethan fall in love with her, and she is furious when his affections are directed toward Supergirl.
News & Interviews for Supergirl
Critic Reviews for Supergirl
Audience Reviews for Supergirl
½
After the third and rather dismal 'Superman' film we got this spin off from the franchise about Superman's cousin. To be totally honest any film revolving around spin off characters you know to be weary of, Superboy, Supergirl, Superdog etc...could easily be duff outcomes if created. However this film is actually a surprisingly good offering which I don't think did any harm a tall. The main reason for this is the good casting, in my books. Slater as 'Supergirl' is a great choice as she not only looks the part but does a decent job portraying the character too. The Salkind's made the right choice in going with an unknown just as they did with Reeve and for me it really shines through. The casting of Dunaway as the evil 'Selena' is again another great choice because Dunaway does the bitch thing really well and she also has a brilliant presence as the evil sorcerer, a perfect fit. Marc McClure back again as 'Olsen' gives the film some needed credit and believability within the Superman franchise and Maureen Teefy is also solid as 'Lois Lane's' younger sister. Everyone else is your standard background fluff and could of been played by many, harsh but true. Such a shame the Reeve cameo never happened as that would have been sweet. The rest of the film is naturally pretty obvious plot wise but it does exactly what you would expect for the franchise. What I like about this is the fact all the effects are still just about on par with the Superman films, Slater flying, hovering and performing super feats looks fine, it doesn't look hokey (for the time). Doesn't have the overall shine of course but it still does the job well if you ask me, apart from the 'Argo City' sets at the start maybe. We also get some nice background work/info on 'Argo City', 'the Phantom Zone' (finally) and the Omegahedron serves well for the story, it all ties in within the whole franchise nicely. What I mean by that is, it looks as if it could fit within the 'Superman' films without an issue. Looking back now it is of course hammy but its still a fun adventure, I enjoyed it more when I was a kid admittedly. Supergirl looks cute but cool in her outfit and does a much better job of disguising herself with her alter ego of 'Lisa' than Superman did, at least she actually looked different. Kinda yearns for the Superman score but I guess that wouldn't be right I suppose. Only thing, 'Argo City' is in space right? and on 'Krypton' right? so how does it still exist for this film?. Also at the end Supergirl flies into the sea to get back there, soooo is 'Argo City' under the sea? is there a portal she went through down there? is 'Argo City' in another dimension? am I being thick here of what?? kinda lost me on that one.
Phil Hubbs
Super Reviewer
Finally Supergirl gets a movie! If you love the comics and the Superman movies, you should check this movie out. Not that it's a classic or anything, actually I love it because it's so bad that it's good. Plus, I love Slater as Supergirl, she's cool.
½
Although the story isn't very good and the bad guy was lame I thought this was a decent flick. The flying scenes were decent and the casting of Helen Slater was a good one. The problem was that the script was silly and the villain was a joke. Most of the action scenes were a little weak as well. One of the cool things in the flick was the first look inside the Phantom Zone. The music was also very good and gave a nice feel to the overall movie.
Jason Spencer
Super Reviewer
Supergirl Quotes
There are no approved quotes yet for this movie.