Super Troopers
(2002)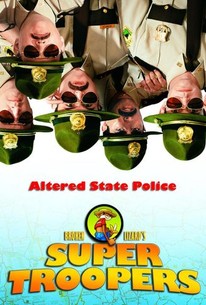 Movie Info
A handful of state troopers are put in the uncomfortable position of having to actually enforce the law in this high-spirited comedy. Mac (Steve Lemme), Thorny (Jay Chandrasekhar), Foster (Paul Stoter), and Rabbit (Erik Stolhanske) are four Vermont state troopers whose dedication to duty is not exactly an inspiration to law enforcement officers everywhere. Stationed in a small town near the Canadian border, the troopers don't have much to do, so they while away their hours smoking dope and harassing hapless motorists. Their superior officer, Capt. O'Hagan (Brian Cox), likes the boys and they try to keep their more outrageous antics out of his earshot, but they often run afoul of fellow trooper Farva (Kevin Heffernan), who insists on doing things by the book. When Governor Jessman (Lynda Carter) announces massive budget cuts for Vermont law enforcement personnel, things look bad for the troopers and they must quickly prove their worth or they'll be forced to look for real jobs. Appropriately enough, the troopers stumble upon some information regarding a group of marijuana dealers operating along the border; the guys figure this is just the sort of high-profile bust that could save their careers, but the police department of a nearby town gets wind of the troopers' plans. The Earlville police are no friends of the troopers, and they set out to ruin their moment of glory. Super Troopers was written by the five-man comedy troupe Broken Lizard, who also star as the five troopers; the group's leader, Jay Chandrasekhar, directed. ~ Mark Deming, Rovi
News & Interviews for Super Troopers
Critic Reviews for Super Troopers
Audience Reviews for Super Troopers
½
It's an unlikely cult comedy with outrageous gags & humor at the expense of law enforcement. Super Troopers displays Broken Lizard at its peak with a colorful cast of characters and laughable moments. 4.5/5
Eugene Bernabe
Super Reviewer
½
Been meaning to see this for quite some time... and it's a shame that it took me so long to see it, because had I watched this when I was younger, I'd probably love it. Unfortunately, I feel as if I've grown up a little too much, because I really didn't find this to be all that great. Don't get me wrong: the story of a bunch of slacker state troopers forced to try to do actual police work is a promising premise, but the execution is where things fall flat. The humor is very hit and miss, although i did find myself amused here and there.
Chris Weber
Super Reviewer
To call this lowbrow could nearly be an insult to the almost distinguished league of lowbrows. A likable cast carries this bit of pork jerky, just not far enough although there are some laffs.
Kevin M. Williams
Super Reviewer
Super Troopers Quotes
There are no approved quotes yet for this movie.