Summer Rental
(1985)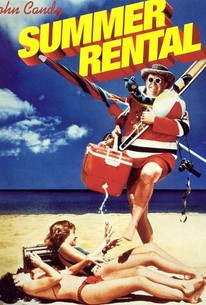 Movie Info
Canadian comic John Candy headlines this comedy playing an air-traffic controller in dire need of rest. Complying to his doctor's orders, he rents a luxury cabin on a supposedly secluded Florida beach and heads south with his family. Unfortunately, they discover that the travel agent duped them and that the cabin is but a shack located on a very public beach. Comical chaos ensues as Candy and his family try to make the best of things.
Critic Reviews for Summer Rental
Audience Reviews for Summer Rental
½
It's juvenile, silly and flaws... but.. it's a comedy with John Candy! So, hey...give it one chance.
Lucas Martins
Super Reviewer
"This has to be one of my favorite John Candy films. I have many. He's a big favorite of mine. While on a forced vacation with his family, Jack becomes fast enemies with the towns sailing legend Al. When Al seeks out to ruin Jack and his families vacation, Jack decides to get back at Al by entering the sailing competition to win the trophy that Al has won for many, many years. A lot of hilarity happens inbetween all of this with lots of laughs that the entire family would enjoy. I love these great comedies from the 80's. They were just so easy and didn't try so hard. See it if you get the chance."
♥˩ƳИИ ƜѲѲƉƧ♥
Super Reviewer
Jack Chester (John Candy) takes his family to the beach on a summer vacation resort in Florida. While on this vacation, Mr. Chester and his family will encounter tough times, make new friends, and much more. All of these events have something in common: They're hilarious! While I was watching "Summer Rental," I could tell that it just had an average script and that in all ways it should've just been an average movie, but John Candy's hilarious antics make this one a keeper for comedy fans. There are many different parts of "Summer Rental" that you'll always remember once you see them such as when an attractive woman asks John Candy for an honest opinion, and when Candy goes on the beach for the first time and tries to avoid many obstacles. Not only is "Summer Rental" hilarious, it also has other redeeming qualities such as the adventure that Mr. Chester (John Candy) and his family go on close to the end of the film. To make it short, if you like hilarious comedy movies, I definitely recommend getting "Summer Rental." You'll want to keep this movie for more than just a rental. NOTE: That was my Amazon review from the year 2001. John Candy's an all-time great.
Jason Owens
Super Reviewer
Summer Rental Quotes
There are no approved quotes yet for this movie.