Sullivan's Travels
(1941)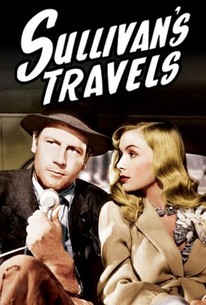 Sullivan's Travels Videos
Sullivan's Travels Photos
Movie Info
In Preston Sturges' classic comedy of Depression-era America, filmmaker John L. Sullivan (Joel McCrea), fed up with directing profitable comedies like "Ants in Your Plants of 1939," is consumed with the desire to make a serious social statement in his upcoming film, "Oh Brother, Where Art Thou?" Unable to function in the rarefied atmosphere of Hollywood, Sullivan decides to hit the road, disguised as a tramp, and touch base with the "real" people of America. But Sullivan's studio transforms his odyssey into a publicity stunt, providing the would-be nomad with a luxury van, complete with butler (Robert Greig) and valet (Eric Blore). Advised by his servants that the poor resent having the rich intrude upon them, Sullivan escapes his retinue and continues his travels incognito. En route, he meets a down-and-out failed actress (Veronica Lake). Experiencing firsthand the scroungy existence of real-life hoboes, Sullivan returns to Hollywood full of bleeding-heart fervor. After first arranging for the girl's screen test, he heads for the railyards, intending to improve the lot of the local rail-riders and bindlestiffs by handing out ten thousand dollars in five-dollar bills. Instead, Sullivan is coldcocked by a tramp, who steals Sullivan's clothes and identification. When the tramp is run over by a speeding train, the world at large is convinced that the great John L. Sullivan is dead. Meanwhile, the dazed Sullivan, dressed like a bum with no identification on his person, is arrested and put to work on a brutal Southern chain gang. With its almost Shakespearean combination of uproarious comedy and grim tragedy, Sullivan's Travels is Sturges' masterpiece and one of the finest movies about movies ever made. ~ Hal Erickson, Rovi
News & Interviews for Sullivan's Travels
Critic Reviews for Sullivan's Travels
Audience Reviews for Sullivan's Travels
½
Preston Sturges knows that every joke has a victim and decidedly makes him go through the hardships of poverty and anonymity for our own amusement. The chemistry between Joel McCrea and Veronica Lake is the heart of this hilarious and life affirming meta-cinematic exercise.
Pierluigi Puccini
Super Reviewer
A wealthy hollywood director gets more than he bargained for when he goes out looking for "trouble" so as to better identify with the common man (and make a better film dramatizing their plight). The director's name is Sullivan (Joel McCrea), and he is more known for goofy slapstick than dramatic human interest. He believes himself to be a noble pursuer of truth and justice, but as his butler Burrows points out, dressing up as a bum and hoboing around is something "only the morbid rich would find glamorous". At first, the studio is intent on following him around (in a giant bus, no less) to document this adventure, but he quickly loses them after making a deal to meet up with them later. Not long after, he's taken in by a girl (Veronica Lake) who buys him a ham-and-egg breakfast as she's on her way east, back home. Sullivan is attracted to her and wants to make a movie with her, only he's still trying to maintain his incognito status, so as a compromise, he goes home and steals his own car so as to give her a ride to whereever she wants to go ("Chicago", she says). After she discovers his ruse, the girl decides to go along with him on his adventure ("How can I be alone if you're with me?" he asks, but to no avail), and the two delve right into the seedy underbelly of America's misfortunes. Riding the rails, sleeping in flophouses, looking for handouts, as if some great and noble purpose could be distilled from abject misery. But as with other martyrs, that nobility is never pure, as they could escape their condition at anytime they so choose, he's never really down and out, he still has his millions waiting for him at home, and so the deception is never fully realized as he knows who he is. Ah, but after he goes back to being Sullivan, and he's clunked over the head and robbed by a hobo and then thrown onto a freight train, well only then does he come to realize the nature of being lowly and without friends. Sullivan comes to realize the irony of socially conscious films is that they do nothing for the people they purport to defend, that watching a film doesn't change anyone's plight. The best a film can hope to do for the lowest rungs of our society is take away the burden of life for a little while, take a person somewhere they've never been before, let them laugh and enjoy themselves, even if it's just for a little while. Throwing their poverty back up in their faces doesn't help them, not even a little bit.
Devon Bott
Super Reviewer
½
Sturges' insight about the relevance of humor in a dog-eat-dog world never gets old, mainly because his insight into humanity itself is spot on. And all his mainstays are here: crisp dialogue, vivid and far-reaching portrayals, a wide cross section of society, Hollywood w/o being Hollywood. And Veronica Lake, too!
Kevin M. Williams
Super Reviewer
Sullivan's Travels Quotes
There are no approved quotes yet for this movie.