Sukiyaki Western Django
(2008)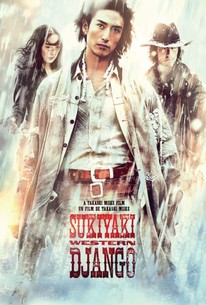 TOMATOMETER
AUDIENCE SCORE
Critic Consensus: Inventive and off-kilter, the newest feast from J-Horror director Takashi Miike is super-sensory, self-referential and somewhat excessive.
Sukiyaki Western Django Photos
Movie Info
Two clans, Genji, the white clan led by Yoshitsune, and Heike, the red clan led by Kiyomori, battle for a legendary treasure hidden in a desolate mountain town. One day, a lone gunman, burdened with deep emotional scars but blessed with incredible shooting skills, drifts into town. Two clans try to woo the lone gunman to their sides, but he has ulterior motives. Dirty tricks, betrayal, desire and love collide as the situation erupts into a final, explosive showdown.
News & Interviews for Sukiyaki Western Django
Critic Reviews for Sukiyaki Western Django
Audience Reviews for Sukiyaki Western Django
½
A lone gunman rides into a small town being ravaged by a war between two rival gangs. In Japan. Yet another remake of Yojimbo (sort of!) it's more an amalgam of Yojimbo and its most celebrated cover version, A Fistful of Dollars. It's obvious why Quentin Tarantino got involved because it is EXACTLY the kind of idiosyncratic, genre-clashing cinematic remix that has become his bread and butter. Full of quirky characters, tongue in cheek humour and cartoon violence, SWD is really a super-stylized gangster movie that's both an affectionate homage and parody of the American western. Reminding me most of the post modern westerns of Robert Rodriguez and Sam Raimi's The Quick And The Dead, this semi-humorous update of a cinematic icon is also quite reminiscent of Takeshi Kitano's Zatoichi. The biggest problem with it is Miike's decision to make the actors speak English; I can see why he did it, but the cast's grasp of the language is limited at best to the point where I had to switch the subtitles on (a fact that made me feel like an isolationist hick!) This obviously seriously compromises the dialogue and its delivery, which is fine during the action sequences but character driven drama goes straight out of the window. A bit like Hot Fuzz, it's probably a film that will be appreciated a lot more by an audience who get the references and if you can get past the language barrier (and I can see how some wouldn't) it's actually a lot of fun.
½
An eccentric and often extremely entertaining flick from Mr. Miike. Quentin Tarantino's turn in the film is also a comedic highlight.
Kristijonas Fussman
Super Reviewer
½
I was excited to see this film, since (in Japan, anyway) it was promoted as Miike's first collaboration with writer Masa Nakamura since the softly philosophical The Bird People in China. Plus, what arthouse fan wouldn't be interested in seeing Miike's stab at a Western? Well, he certainly pays the proper respects to Leone, Corbucci, and Kurosawa, but this film read like a style exercise with clever references, and nothing more. Making the curious decision to cast Japanese actors to speak English renders every annunciation and inflection awkward and disengaging. It's almost as if Miike wanted to keep the audience at bay, and in turn, his characters two-dimensional. Sure, there are some terrific shots and the production design is gorgeous, but unfortunately this is just another annoying "postmodern/revisionist" film that isn't meant to be engaged with, but is meant to be watched with a smug and hip ironic detachment. It's a film that is championed by "film people" who look around and say "Aren't I cool for laughing at this?" No, you're not. You're what's wrong with the industry today. If this analysis appears to be too critical or negative, look at which famous director makes an eye-rolling cameo in the opening scene: the poster child for hip, self-referential cinema and the man who has single-handedly killed film art forever, Mr. Quentin Tarantino. Miike is better than this.
Jonathan Hutchings
Super Reviewer
Sukiyaki Western Django Quotes
There are no approved quotes yet for this movie.