Suicide Kings
(1997)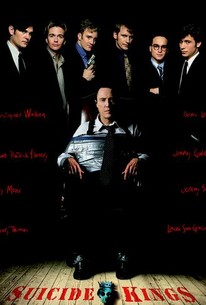 Movie Info
Capo di tutti-frutti: Mob biggie is captured and used as bait by a group of inept rich kids when one of their sisters is kidnaped. Slick and smug and ultimately pointless.
News & Interviews for Suicide Kings
Critic Reviews for Suicide Kings
Audience Reviews for Suicide Kings
½
[img]http://images.rottentomatoes.com/images/user/icons/icon14.gif[/img]
Directors Cat
Super Reviewer
Suicide Kings is a mediocre film that just lacked despite its good cast. Despite its unique plot and a cast of varied talent, this film let me down and I thought it could have used a few rewrites. The film was simply underdeveloped and was all over the place. Not even a cast like this could save the film from being a total dud and I was very disappointed in what I saw. I thought the plot was very interesting, but lacked something to really make it a standout film. The end result is a film that is mediocre and has wasted talent on-screen. If the script and direction would have been better, then maybe the result would have been much better on-screen, and the film would truly been interesting to watch. As it was, it was a dull affair that simply didn't grab my attention and like I stated before, it was all over the place, and tried to give the viewer way too much elements at once, which really didn't interest me in the long run. Walken is a great actor, and one of my favorites, however not even him could save the mediocre material from failure. Don't expect much from this picture as it doesn't do anything really interesting with its unique plot, and I think it's a shame because this film could have been truly something worth seeing. On paper, this film probably looked great, but on-screen it is a disappointing effort that really isn't worth checking out. If the ideas would have been thought a bit more, and the darkly humorous bits were better written, then I think the film would have worked, but as it stands, it just doesn't deliver.
½
In the wake of Quentin Tarantino's massive success, many people tried to cash in on the formula, and the world was subjected to a slew of imitators, ripoffs, and clones. While this film is in that vein, it is one of the amiable and enjoyable, and has a bit of its own fun and slick entertainment to offer. It's just a shame that it has fallen by the wayside and has become seemingly all but forgotten, When his sister is kidnapped and held for a $2,000,000, and his dad isn't able to offer up the money, priviledged kid Avery and a group of his friends come up with the idea of doing a kidnapping of their own: the take retired mob figure Charlie Barrett hostage, hole up in their uptight friend Ira's parents's home while their away, and force Charlie to use his contacts to get the girl back. What they don't count on is the possibility of being in over their heads, especially when Charlie has his own ideas about what's going on. The set up is a decent one, and provides some great opportunities for a good cast to do their thing, and do it fairly decently. The film has crime and thriller elements, and a few scenes filled with well executed tension, but it's really more of a dark comedy. The main focus of the film is on the group of young guys as they try to coax Charlie into helping them, who begins to size them up, get inside their heads, and show them just how unprepared they are to deal with what they've gotten themselves into. Along the way we also check in on the girl's kidnappers from time to time, as well as follow the exploits of Charlie's lawyer who enlists the aid his client's bodyguard Lono- a short tempered hitman who travels all over New York trying to hunt down Charlie's captors. This is some fun stuff, and though it has shades of QT all over it, it's still quite enjoyable and entertaining. Veteran television director Peter O'Fallon made his feature film debut here, and it's not a bad job at all. A little rough around the edges maybe, but passable. Where this film really works though, is in the casting and the perforamnces. Christopher Walken shines as the captive Charlie, and his deadpan delivery filled with occasional menace makes for some priceless moments. It's really fun seeing him match wits with a group full of youngsters including Henry Thomas (little Elliott from E.T.) as Avery, a pre-Boondock Saints Sean Patrick Flanery, Jay Mohr, and Jeremy Sisto as Avery's friends and accomplices, a post-Roseanne but pre-Big Bang Theory Johnny Galecki as their neurotic friend Ira. Denis Leary shines as the anger prone thug Lono, and a fair amount of the film's humor is because of him alone. The film's got some neat ideas, and dialogue is pretty sharp, but it's not without its problems. The film's plot gets really twisty, turny, and complex, and becomes rather muddled, convoluted, and messy at times. It also feels a little self consciously hip, and it feels like the film is going out of it's way to be cool and it comes off as forced instead of natural. Also, I think the times when the film shifts focus away from Charlie and the youngsters could have been handled a lot batter, and maybe more could have been done with them. Overall though, this is a rather okay film. I've got a bit of a personal attachment to it as it played a role in my becoming the film buff I am today, so I can't be too hard on it, but even then, it's no masterwork or anything. It's just a shame that the film didn't get more attention. I mean, of all the films that tried to cash in on Qt's success, this is easily one of the better ones.
Chris Weber
Super Reviewer
Suicide Kings Quotes
There are no approved quotes yet for this movie.