Submarine
(2011)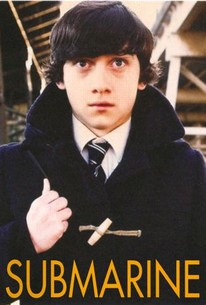 Movie Info
Fifteen-year-old Oliver Tate has two big ambitions: to save his parents' marriage via carefully plotted intervention and to lose his virginity before his next birthday. Worried that his mom is having an affair with New Age weirdo Graham, Oliver monitors his parents' sex life by charting the dimmer switch in their bedroom. He also forges suggestive love letters from his mom to dad. Meanwhile, Oliver attempts to woo his classmate, Jordana, a self-professed pyromaniac who supervises his journal writing - especially the bits about her. When necessary, she orders him to cross things out. -- (C) Weinstein
News & Interviews for Submarine
Critic Reviews for Submarine
Audience Reviews for Submarine
½
[img]http://images.rottentomatoes.com/images/user/icons/icon14.gif[/img]
Directors Cat
Super Reviewer
½
Oliver Tate: Her new boyfriend has an incredibly long neck. Just thinking about giraffes makes me angry.  "A comedy that doesn't let principles stand in the way of progress." Submarine is a great little coming of age story that honestly tells a tale of adolescent love and teenage problems. This is a film that isn't for everyone. It's a slow and contemplative movie that gets its laughs from the awkwardness of the protagonist who is entering his first relationship and doesn't really know how to go about it. The movie is refreshing in how it handles Oliver's life and how it presents him.  Oliver Tate is a fifteen year old boy living in Wales with his mother and father. At the start of the film, he explains that his parents haven't had sex in 7 months and that he monitors them and just about everything they do. He also does routine room checks of his parents room. Oliver also has another interest, and her name is Jordana. Soon the two start dating and eventually they even take it to the next step. The relationship is handled rather well on screen, and it seems like a legit 15 year old relationship. Oliver's world starts changing when his mother starts spending a lot of time with a guy she had a past with. Now, he needs to save his parents relationship and hopefully his own. This movie is beautifully made, with wonderful cinematography and fitting music. There's also a wonderfulness to the dialogue. It seems so honest and real. There's no big speeches about how much Oliver loves Jordana; only real words that a real 15 year old would speak. I appreciate the movie on a whole for being one of the few films that truly gets the teenage relationship factor.  Submarine is a really worthwhile movie, and one that I would recommend as long as you like independent, sort of quirky, and quiet movies. I think I would like the movie much more after another viewing in the future, but as of now, I solidly like it. I haven't fallen in love with it yet, but I can definitely see that happening if I spend some more time with it.
Melvin White
Super Reviewer
'Submarine' is Richard Ayoade's directorial debut and although unique and interesting, felt overlong and sligtly forced. Quirkiness is a nice aspect in some films, it offers a refreshing change and can leave you smiling, 'Submarine' however decided to go on a one man (movie) mission into the deepest pits of whimsical comedy to emerge drenched in what can only be described as a coating of quirk that completely smothers the film. When 'Amelie' did it, it felt just right, when 'Submarine' does it it becomes to much. The premise is still intersting and at it's core is executed well (the voiceover works) but overall I can't help but feel like it's an honest story with a load of rubbish on top.
Cameron Sherwell
Super Reviewer
Submarine Quotes
There are no approved quotes yet for this movie.