Stretch
(2014)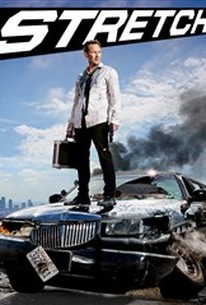 Movie Info
Hard luck limo driver Stretch (Patrick Wilson) is struggling to go straight and pay off a debt to his bookie when he picks up a crazed passenger (Chris Pine) whose sought-after ledger implicates some seriously dangerous criminals. ~ Jason Buchanan, Rovi
Critic Reviews for Stretch
Audience Reviews for Stretch
Patrick Wilson stars in the offbeat comedy Stretch. The story follows a limo driver named Stretch who picks up an eccentric millionaire who offers to payoff Stretch's gambling debts if he sticks with him throughout a wild night of debauchery. Co-starring Jessica Alba, Ed Helms, and Chris Pine, the film has a pretty good cast. However, the script is weak and doesn't seem to know where it's going most of the time. And, a lot of the crazy shenanigans seem random and contrived. Stretch is a bit of fun, but it's also messy and unfocused.
Dann Michalski
Super Reviewer
½
You know what, Universal treated this film like absolutely crap. They dropped the film completely, leaving it without a distributor to get it out there on theaters. Eventually the rights reverted back to Universal when no deals could be reached with other studios and they just threw it out there on iTunes and VOD without much fanfare. I didn't even know it was released until I saw it on Netflix last night. They really screwed over this film. Did they see it really that much as a risk? This is a low-budget film, probably didn't cost more than $5 million to make. Fuck, man. Universal is the same studio that funded 47 Ronin. A film that cost $175 MILLION to produce and that's excluding advertising AND distribution. 47 Ronin, adjusted for inflation, reported loses of over $152 MILLION. This makes it the second biggest bomb in film history after The 13th Warrior. Read that again...the second biggest bomb in film history, adjusting for inflation. And yet, this small low-budget indie film is WAY too much of a risk to bother giving a proper release to. The head honchos at Universal are fucking stupid. And you know what sucks most of all, is that the film is an absolute blast to watch. It is a little out there, it's wild, crazy, irreverent, violent, and, most of all, funny. This is the type of movie that will find a very dedicated cult following. So while the movie, if released, might not have made back its budget in its first run, this passionate following would get their friends to watch it, and those people would tell other people and so on and so forth. The Big Lebowski is one of the most successful cult movies because of this very principle. It wasn't that successful at the box office, but it made back its budget tenfold in DVD/Blu-ray/merchandise sales. I'm not saying this film will be the next Big Lebowski, but it will have a passionate following. But I digress. This film is pretty damn fun, even if it's not exactly the type of film that will appeal to a wide audience because it does have a pretty fucked up sense of humor. It's a film that will appeal to genre fans first and foremost. There's everything from comedy, action, thriller, and even a little romance for the ladies. I don't even know to begin with the story. Basically Stretch, who drives limos for this big company, is in debt to a Mexican mobster, has been living through hell ever since his girlfriend dumped him for a millionaire football player. His luck changes when he meets billionaire Roger Karos as he promises to pay off his debt if he does a couple of things for him during the drive. That's pretty much the basic premise. Everything else that comes afterwards you'll have to find out on your own. Just know that it keeps getting worse, and worse, and worse for Stretch. And the thing is, as bad as things get, Stretch finds a way to thrive in each situation, no matter how bad things get. He also sees visions of the previous driver of the limo he now drives. So there's that. In many ways this is a satire of the way how Hollywood just eats up young actors, not even given them a chance, as Stretch originally made it to Hollywood to, as you guessed it, be an actor. The night's events see Stretch rebuilding that confidence in himself as an actor, since he needs it to get himself out of some pretty sticky situations. That's as much as I can say without really spoiling anything about the film. The casting is pretty much excellent all around, Chris Pine definitely steals the show though. He's this weird mix of Howard Hughes, in how reclusive he is, and Tom Hardy in Bronson. Did he channel Tom Hardy on purpose? It's unlikely, but that's who I was reminded of when I saw Chris Pine in this movie. Pine is a talented actor, of course, but Tom Hardy would've eaten Pine's lunch if he was cast. But I'm not here to pit one actor's talent against the other, I'm actually trying to compliment Chris Pine, since he did an excellent job. It's strange because I would've liked to see more of the character, but the movie gets even wilder and better when Karos sends Stretch on his journey to collect a briefcase, which leads to things, obviously, not going as they were planned. Karos definitely has some of the best lines in the film. Karl, the always entertaining Ed Helms, certainly has his fair share, my favorite would be the one when Stretch is being chased by the bouncers from the club after he threatened to shoot one of them. It might be racially insensitive, meant in a satirical tone of course, but it was really fucking funny nonetheless. The film has a great soundtrack, reminds me of Drive, with that synth-heavy 80s-ish songs. It's not as good as the soundtrack was in Drive, but it's still very good. The film, directed by Joe Carnahan, is really well-shot for its budget. That's a credit to Carnahan, the director of photography, and the entire crew. You wouldn't be able to tell it has such a minuscule budget. What I didn't like about the film is that it sort of ram out of steam after Stretch picks up Karos from his depraved endeavors, but it wasn't enough to truly bring the movie down that much. And the ending itself, while deserved after everything Stretch went through feels incredibly out of place in this movie. It feels like something out of a PG-13 wacky romantic comedy where the leads start off hating each other. And, much like Edge of Tomorrow, they just had the leads kiss because they're attractive and that's just what you do. I think the film, and its character, deserved a better ending than that, but it is what it is. It is one of the few low-lights in a film that is as much of a blast as this is. Universal really fucked up by not giving this a chance, hopefully they're shown how wrong they were about this film.
Jesse Ortega
Super Reviewer
Can't get enough of these kinds of movies that involve one lead character pressed for time on a mission. It is a roller coaster ride through and through. Patrick Wilson does a great job making it work as the driver down on his luck who comes to a realization throughout his journey he has the spine to come out on top in the crunch. A super solid supporting cast led by the craziest role I have seen Chris Pine in to date. Ed Helms, Brooklyn Decker and Jessica Alba all had minor, but pivotal roles. With actors like this, and yes I am including Decker because I feel she has done decent work for the films I have seen her in, you can make it through some of the slow parts. There were some good cameos and one thread of the story left without a conclusion of who the driver of the rival company was, but the main storyline stayed true with some enjoyable speed bumps along the way that didn't deter from the end result.
Lane Zieben
Super Reviewer
Stretch Quotes
There are no approved quotes yet for this movie.