Street of No Return
(1991)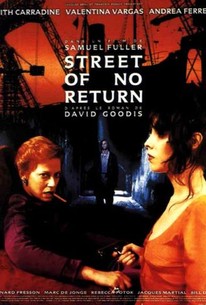 AUDIENCE SCORE
Critic Consensus: No consensus yet.
Movie Info
Sam Fuller took David Goodis' book about a singer in full running downward mobility who is forced to deal with those who helped put him on the skids and turned it all bassackwards--even to the point of putting a happily ever after on the end of it. Goodis must have cried.
Critic Reviews for Street of No Return
There are no critic reviews yet for Street of No Return. Keep checking Rotten Tomatoes for updates!
Audience Reviews for Street of No Return
½
This is the last film Samuel Fuller's made before his dead. Who is Samuel Fuller, well he is one of the best Grindhouse Writers and Directors, as good and should have been as well know as Hitchcock, except that his stuff was grindhouse Art house type movies. This one was made in Portugal and stars Keith Carradine, who is a rock star his only problem is he falls in love with the wrong girl and a mob boss has Keith's throat cut for payback for messing with the wrong girl, so he becomes a drunken bum. During the film we see riots, cop chases, the works, but in the end the guy gets the girl. On the Grindhouse Scale its 4 stars but on the normal everyday movie watcher 3 1/2. I was lucky to find this one brand new in a pawn shop. And I thought Christmas Came in December. Again a great film for Grindhouse / Shock Cinema / Drive inn Movie Fans, all others if you don't know what Grindhouse is, its time you did, so do some research.
Bruce Bruce
Super Reviewer
Street of No Return Quotes
There are no approved quotes yet for this movie.