Street Fighter: The Legend of Chun-Li
(2009)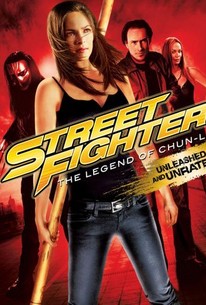 TOMATOMETER
AUDIENCE SCORE
Critic Consensus: The combination of a shallow plot and miscast performers renders Street Fighter: The Legend of Chun Li a perfectly forgettable video game adaptation.
Street Fighter: The Legend of Chun-Li Photos
Movie Info
As the *Street Fighter saga celebrates its 20th anniversary, fight fans are invited to follow along with fearsome fighter Chun-Li (Smallville's Kristin Kreuk) as she faces off against a series of formidable opponents in this feature adaptation of the popular video-game franchise directed by Exit Wounds' Andrzej Bartkowiak. Previously adapted for the screen in the 1994 Jean-Claude Van Damme film, the series continues to thrive as eager gamers across the globe go toe-to-toe to determine who is the most skilled and powerful warrior in the video-game universe. Michael Clarke Duncan, Chris Klein, Rick Yune, and Neal McDonough co-star in the 20th Century Fox production.
News & Interviews for Street Fighter: The Legend of Chun-Li
Critic Reviews for Street Fighter: The Legend of Chun-Li
Audience Reviews for Street Fighter: The Legend of Chun-Li
Is it against the law to make a good SF movie? I'm beginning to think so. I couldn't even bring myself to finish this.
vieras esine
Super Reviewer
½
Some fight for power. Some fight for us. Disappointing movie but not too bad either. On the whole, the movie doesn't quite work. It has some good ideas and an interesting story, but it really doesn't handle them properly. For every strong moment the film has, there is a weak one to bring things down again, and of course there's an open ending, though if they actually make a sequel to this I'll be amazed. I likely won't be the first in line to see it, though. I probably won't see the movie again, either... well, not in the theater, anyway. If you like solid electronic dances tunes, the soundtrack may be worth your while. The movie, on the other hand, won't really entertain general audiences, and I imagine fans of the games will be pretty divided on it. Chun-Li lives a calm life with her father, when one day, the local mobster Bison kidnaps her father. After her mother's death, she embarks into a quest to rescue her kidnapped father from the clutches of powerful criminal lord Bison.
Street Fighter: The Legend of Chun-Li. What a waste of 90 minutes. Sorry Andrzej Bartkowiak, but this is one horrendous picture.
For a film based off of a video game, it takes itself way too seriously and this makes the characters, among other things, look more out of place than they should be. As for the story, it is uninteresting and most of the film ends up feeling really mundane.
The story and concept has the green light to unleash the action; however, there isn't enough of it. The choreography is pretty good in the early going, but as the film progresses it all goes downhill as it becomes less impressive. Eventually it all leads up to the predictable grand finale of Kristin Kreuk taking on Neal McDonough. Talk about the wrong stuff.
Some of the acting is mediocre at best. The rest is dreadful. Aside from her looks, Kristin Kreuk isn't anything spectacular and her narration scenes are uninspiring and quite bland. Chris Klein is absolutely terrible. He tries to pull off an over the top character, but fails miserably. What few good things this film has, it is offset by Chris Klein's performance.
All that's left to say is that Street Fighter: The Legend of Chun-Li is a waste of time. Please move on to something else.
Street Fighter: The Legend of Chun-Li Quotes
There are no approved quotes yet for this movie.