Strangeland
(1998)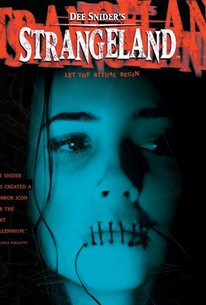 Movie Info
The voice of a madman pierces through a house of horrors as clearly as it does through an on-line chat room...anonymously. In such a chat room is where 15-year old Genevieve Gage and her best friend Tiana Moore try to rustle up some action after school. It's also where they meet Captain Howdy who, behind an electronic veil, seems like a typical, hormones-a-poppin' high school student. When he invites Genevieve and Tiana to a party one night, they naively accept. When Genevieve doesn't return home that night, her father, Detective Mike Gage, a committed police professional who subscribes to such statistics as "Ninety-five percent of all missing children are found at friends' or relatives' homes within hours," remains calm. His wife Toni , however, takes little comfort in numbers and even less in the stability of her marriage.
Critic Reviews for Strangeland
Audience Reviews for Strangeland
Strangeland which is written by Heavy Metal musician Dee Snider of Twisted Sister fame. This is an underrated film that has a unique concept. Although Snider's ideas are a bit rough, there are still plenty of good things going for the film. The acting is fairly decent, never anything good but definitely not as bad as what many critics have said. Snider's character is eccentric, bizarre and psychotic who says stuff that really doesn't make any sense. In a way that's what makes him appealing. The film has a dark, moody, melancholic atmosphere which adds to the tone of story. Although not perfect, I felt that Strangeland wasn't as bad as what every critic has said. There's an inventive plot in its somewhat sketchy script, and it works well enough for its 90 minute run time. There's nothing truly remarkable about this one, except if you're looking for an underrated B movie, then check this film out. I was very much surprised and I really didn't think it was that bad. In fact, it was pretty good. There are some very interesting ideas at work here, but the script clearly suffers from being underdeveloped. If Dee Snider would have spent time rewriting a second draft, then maybe we would have had something very memorable on our hands. However, I still enjoyed the film, even though the plot was imperfect, and the cast were so-so. The film does possess something worth mentioning, Dee Snider as the villain. That made this worth seeing. Strangeland isn't a bad film, but considering the concept, it makes you wonder how much potential this flick really had.
So much flesh, so little time.
½
Dee Snider tortures teens (with needles, not by playing them cuts from the Twisted Sister reunion album). A shallow peek at modern primitive culture can't save this incompetent, rote shocker.
Strangeland Quotes
There are no approved quotes yet for this movie.