Strange Wilderness
(2008)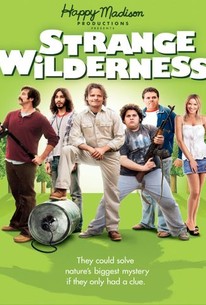 Strange Wilderness Videos
Strange Wilderness Photos
Movie Info
A pair of animal enthusiasts desperate to boost the ratings of their failing television series "Strange Wilderness" set out for the Andes in search of the elusive Bigfoot in this comedy directed by Fred Wolf and starring Justin Long, Steve Zahn, Kevin Heffernan, and Ernest Borgnine. Peter Gaulke (Zahn) and Fred Wolf (Allen Covert) are the energetic hosts of "Strange Wilderness" -- television's most unconventional nature show. When the ratings take a nosedive and they are confronted with cancellation, Peter finds himself resorting to desperate measures in order to stay on the air. Perhaps if the "Strange Wilderness" crew could somehow track down the most elusive creature ever to stalk the woodlands, they could keep their show on the air and go down in history as the adventurers who solved one of nature's greatest mysteries.
News & Interviews for Strange Wilderness
Critic Reviews for Strange Wilderness
Audience Reviews for Strange Wilderness
They could solve the world's biggest mystery, if only they had a clue. Entertaining movie which was dumb most of the times but was funny too at times and made me laugh. It depends on your sense of humor if you'll enjoy this movie or be a waste of time for you, watch at own risk and if you do watch it don't take it so seriously. When his father dies, Peter Gaulke inherits "Strange Wilderness," dad's TV show about animals. After ratings plummet and the show is canceled, we watch a long flashback to see its demise. The studio head gives the show two more weeks. An old friend brings a story about Bigfoot in Ecuador, so a long road trip ensues with stops along the way and enough problems, misjudgments, and deaths to sink a less intrepid band. Peter's team faces competition from a better-funded and more practiced set of rivals. Who will find Bigfoot first, and will they get it on tape and save the show? Can Peter make dad proud?
Wow... this was so boring
Strange Wilderness for me is a harmless comedy. Sure the film is definitely not a classic, but it did make me laugh. People take the film seriously, and thats why they pan it. The can't appreciate something comical. This film is much better than most comedies out there. Strange Wilderness is a much better fil that Semi Pro for example or Land Of The Lost. Sure the film could have been better, but compared to most Happy Madison failures (Paul Blart, Deuce Bigalow, etc) this is a good film. This film is not great, but it's good. Strange Wilderness is the type of film that you watch when you have nothing else better to do. The low brow type of humour may not appeal to many, as I came to notice by all the negative reviews. However Strange Wilderness is a film for people who have a vulgar and twisted sense of humour (thats why I like it, cause thats my sense of humour) Now I'm not saying that this is as good as The Hangover, far from it, but this film has some really funny moments. This is by far along with Grandma's Boy one of the better Happy Madison productions. May not win any oscars or be remembered as a great comedy in the years to come, but for what it is; it will make you laugh if you have a twisted sense of humour. One of the weaker aspects of the film is Joe Don Baker, I can't stand him, he is by far one of the worst actors I have ever seen. He basically plays the same character in every he does, and he ruins it. They totally missed the mark in doing so. Again, Strange Wilderness is not for everyone, but if you like harmless fun, then this film is for you.
Strange Wilderness Quotes
There are no approved quotes yet for this movie.