Straight Jacket
(2004)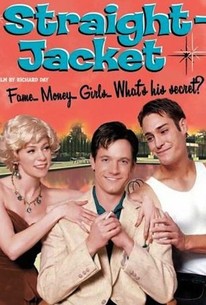 TOMATOMETER
AUDIENCE SCORE
Critic Consensus: Straight Jacket succeeds in its moments of lighthearted comedy, but ultimately collapses under the weight of its serious -- and clumsily imparted -- messages.
Movie Info
An actor trying to keep the truth about his love life under wraps discovers feelings he doesn't want to hide in this frothy comedy. It's the mid-'50s, and Guy Stone (Matt Letscher) is a very successful movie star. Tall, good-looking, and boyishly charming, Stone has a reputation as a ladies' man with a very active love life. However, the truth is a bit different: while Stone is indeed enjoying more romantic misadventures than he can keep track of, he happens to prefer the company of men. When a scandal sheet gets wind of his sexual proclivities, Stone's manager (Veronica Cartwright) and the head of his studio (Victor Raider-Wexler) decide some camouflage is in order. Stone's handlers arrange for him to marry Sally (Carrie Preston), a sweet and naïve secretary from the studio who is entirely unaware that the man of her dreams is gay. As Stone tries to make the best of his sham marriage while feeling twinges of guilt about the toll it may take on Sally, he meets Rick Foster (Adam Greer), an author whose most recent novel is being adapted into a script for Stone. To Stone's surprise, he find himself falling seriously in love with Foster and discovers that Foster, like himself, has a few secrets that could put his Hollywood career in jeopardy. Straight-Jacket was directed by Richard Day, who also wrote the screenplay which was adapted from his off-Broadway play of the same name.
Critic Reviews for Straight Jacket
Audience Reviews for Straight Jacket
Very fun, campy film with some great moments and lead actors that throw themselves into the film with gusto and a lot of self-deprecating humour. The timing wasn't always perfect and the hilarity was unfortunately not sustained throughout the whole movie. But overall an entertaining, well-meaning comedy with just a pinch of truth.
Straight Jacket Quotes
There are no approved quotes yet for this movie.