Storks
(2016)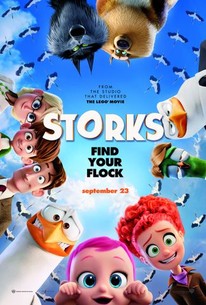 TOMATOMETER
AUDIENCE SCORE
Critic Consensus: Colorful animation and a charming cast help Storks achieve a limited liftoff, but scattershot gags and a confused, hyperactively unspooled plot keep it from truly soaring.
Movie Info
In this animated children's fantasy, two storks (voiced by Kelsey Grammer and Andy Samberg) reveal the truth about their job delivering babies to new parents.
News & Interviews for Storks
Critic Reviews for Storks
Audience Reviews for Storks
Answering the age old question of where babies come from, Storks is a rather cute family comedy. Over a decade after the Storks switched from baby delivery to package delivery a worker accidentally activates the long dormant baby factory; forcing the new boss, Junior, to try to secretly delivery the baby before anyone finds out and he loses his job. Featuring the voice talents of Andy Samberg, Katie Crown, Kelsey Grammer, Jennifer Aniston, and Danny Trejo, the cast is pretty good and do an impressive job at creating fun and interesting characters. And the animation is well-done, with a lot of imaginative character and set designs. Yet the storytelling is a bit lacking, as it's not always clear where it's going and kind of meanders at times. While it has some problems, Storks is an entertaining film that delivers a lot of laughs.
Dann Michalski
Super Reviewer
From Kubo to this in a week. That might actually sound like I'm being condescending or as if I'm being dismissive of this film, but I'm really not. Kubo is worlds better than this movie, that's for damn sure, but I thought this movie was somewhat of a pleasant surprise. What I mean by that is that I literally heard nothing about this movie when it first came out. Maybe that's just me not keeping up-to-date as much as I probably could have, but I didn't know much about the movie. I didn't hear that it set the world on fire nor did I hear that audiences loved this movie. Which is why I came into it, not necessarily with lower expectations, but let's just say that I wasn't all that excited to be watching this. Thankfully, the fact that I had a Redbox free rental pretty much gave me the balls to give this a shot. And I'm happy to say that this was an enjoyable and, actually, surprisingly progressive movie. I'll get to that progressiveness later, which is something that's gonna piss off the conservatives in the crowd, but they can go suck it. Obviously, by the way the film is structured, this is meant to be a film that's very light in tone and very kid-friendly. Perhaps very-kid friendly might make this seem like it's not very good, since I always use those terms negatively in films like this. But in this case, I just mean that the movie is colorful enough and has enough slapstick to keep even the youngest kid entertained, but it's also, in my opinion, clever enough with its dialogue to also be entertaining to parents, particularly the segments where Junior and Tulip argue over whose turn it is to look after the baby while the other sleeps. Even without that, though, I believe that the dialogue strong enough that adults will enjoy this movie. The story is very simple. Storks haven't delivered babies for 18 years, after an incident resulted in one of the babies not actually being delivered and staying with the storks, Tulip, who have their own delivery company. Tulip, being reassigned to Letter Sorting, since Junior couldn't find it in his heart to fire her, messes up when she gets a letter and it leads to the creation of the first baby in 18 years. Junior, who's up for a promotion and this incident would only hurt his chances, decides to help Tulip deliver the baby. Pretty simple premise, but I think it works, since you also have the angle where Tulip, who never met her parents, wants to do her part in getting this baby to the people who want her. They do get into a little of silly antics, but I think the movie does do it in an entertaining manner. Is the film the most consistent? Eh, not necessarily, but I still found this enjoyable. Some of the best bits of the entire movie have to do with the wolves, where they can literally transform into anything the Alpha shouts out. Another highlight would have to be Tulip and Junior's fight with the penguins where they have to be as quiet as humanly possible or else the baby, whom Tulip names Diamond Destiny, will wake up. It's definitely silly, but I think it works. The story isn't anything to really write home about. There's also another side of things, which is the kid who asks for a baby brother with ninja skills, bonds with his workaholic parents as they build shit all around it to make it easier for the storks to deliver the baby. These parts of the film, with the kid and his parents, are the weakest of the entire film. I just felt that it was a shallow way to pad the film's running time. Since, without this, the movie would have barely been over 1 hour long. But I guess you needed that perspective. I just wish they would have done something more interesting with it. And, of course, since Junior and Tulip are delivering a baby, there's a lot of adorable baby shit here. I think they rely way too much on people finding the baby adorable to look over a lot of its flaws. Sort of like how everybody, once they see Diamond Destiny, goes 'awwww' and they forget what they're doing to focus solely on the baby. That's what they hope to accomplish with audiences as well and, at least with me, it didn't work. I'm not saying I'm better than people who fell for it, but it just didn't work for me. The voice acting is, by and large, really good. Andy Samberg and Katie Crown, Junior and Tulip respectively are really great here. But there's one character that might literally have had some of the most annoying voice acting I've heard in a long time. And, you guessed it, it was Pigeon Toady. He speaks in the most annoying way possible, like he's some sort of surfer dudebro who uses the word 'brah' a lot. I'm not saying that Steve Glickman, who voiced Pigeon, did a bad job, I'm just saying that he was terribly annoying to the point that I wanted nothing more than for his character to die a horrible death. Outside of appearing in Workaholics, this guy has a shit filmography. I honestly have no idea if this guy is actually funny or not, but if his performance here is any indication, then he's fucking dreadful. And I know I said that he wasn't actually bad, but if this is the type of voices he does, then I will hate him in everything he does. That's how annoying he was. At the very least it's a minor character and they do get some funny moments out of it. Which brings us to the ending. Basically over a million infants are created and the storks are meant to deliver them all. This is where the film actually shows its progressive side. You get to see quick flashes of all the families that receive babies, like one to two second flashes, and you get to see two LGBT couples (one lesbian and one homosexual) receive babies. You also see a single mother. I'd like to say that it's subtle because of the fact that it's a quick flash, but it's really not. And I'm not saying that that's a bad thing in the least, I've always been very supportive of the LGBT community and their right to adopt. But I can see how some asshole who only gets his/her "news" from Fox News or Breitbart might see this as some sort of liberal propaganda. And it isn't, of course. The fact of the matter is that these people have a narrow-minded view of what families can be. Families come in all shapes and sizes, there's no one 'set' formula for what a family is or what it can be, regardless what these conservatives would have you believe. And I'm glad that the movie, in however of a small dose it may have been, showcased that. With that out of the way, the movie isn't perfect, far from it. It's got a lot flaws and those flaws should be obvious. Inconsistencies aside, I still found myself enjoying a lot of this movie. The voice acting is strong, outside of one really annoying character, the dialogue is good. The narrative isn't great, but it does a good job at getting you invested in its characters and their actions. I'd recommend it only as a rental though. Solid little movie.
Jesse Ortega
Super Reviewer
½
Storks,like The LEGO Movie,has a not-really complicated story,packed in a fast 1 (and a half) hour movie,along with his gags and a heartbreaking last scene.
Agostino De Maio
Super Reviewer
Storks Quotes
There are no approved quotes yet for this movie.