Storie di Ordinaria Follia (Tales of Ordinary Madness)
(1981)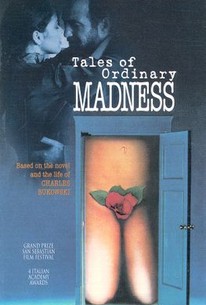 AUDIENCE SCORE
Critic Consensus: No consensus yet.
Movie Info
Ben Gazzara delivers a gutsy, four-barreled performance as skid-row poet and storyteller Charles Bukowski (rechristened Charles Serking onscreen) in Tales of Ordinary Madness, blackly comic Italian director Marco Ferreri's adaptation of Bukowski's roman à clef Erections, Ejaculations, Exhibitions and General Tales of Ordinary Madness. Half soused, with a 2 a.m. shadow and street urchin rags, Serking waltzes through the scummiest neighborhoods of the City of Angels, indulging in booze, poetry, and copulation, and lounging in flophouses and on grimy public buses. His bedmates are a midget, a string of seedy whores, and various earthy L.A. denizens, played by Susan Tyrell, Ornella Muti, and others; he eventually falls for a prostitute who can express her affection only via self-mutilation. Ferreri lets Bukowski's ribald humor flow throughout and exposes the dark erotic currents at the heart of the author's narratives. Laced with perverse, shocking imagery, this unbridled celebration of life's dark underbelly has been praised by critics such as The New Yorker's Pauline Kael and Playboy's Bruce Williamson for its "genuine audacity and risktaking."
Critic Reviews for Storie di Ordinaria Follia (Tales of Ordinary Madness)
All Critics (3) | Fresh (1) | Rotten (2)
Denise Gentile tries her best to save the picture but can't. The writing is too loose and the other acting is credible only in fits and spurts.
Ben Gazzara had some of Bukowski's outward mannerisms and the same beady eyes as the poet.
Audience Reviews for Storie di Ordinaria Follia (Tales of Ordinary Madness)
Returning to Los Angeles by bus after his wallet was stolen after having passed out following a performance, poet Charles Serking(Ben Gazzara) finds his ex-wife and landlord Vicky(Tanya Lopert) wanting the last two months' rent. That does not stop him from chasing after Vera(Susan Tyrrell) which later causes him to spend a night in jail, although not for the reason you are thinking. And then there is Cass(Ornella Muti) who he meets in a bar where she does something very painful looking with an oversized safety pin. Mind the generalizing, but it seems like whenever a European film director comes to the United States for the first time, he skips Disneyland and heads straight for skid row.(See, people take the bus in Los Angeles. And hey! Is that a Fotomat?) I'm not complaining, mind you, as I actually think it's cool since apparently we are too obsessed in this country with upward mobility to care much about those who have fallen through the cracks. This might also explain why only European directors have adapted the works of Charles Bukowski. This one is from "Erections, Ejaculations, Exhibitions, and Other Tales of Ordinary Madness." And Marco Ferreri has nailed it with the help of a searing performance from Ben Gazzara, informing the life of an addict with levels of profound masochism. Only such pain could create Serking's powerful art but long can it truly last?
Lecherous, alcoholic street poet "Charles Serking" (pseudonym for Charles Bukowski) falls in love with a suicidal prostitute. Partly successful, with some of the strangest sex scenes you'll ever see. Boozy as hell; plays out like a string of half-remembered and misremembered incidents from a yearlong drinking binge. For some reason this movie is listed on Flixter twice.
½
"Style is the answer to everything...To do a dangerous thing with style is what I call art." Bukowski had style. Ferreri has style. This film is an achingly human, drunken odessey inspired by the writings of Bukowski. This is not an adaptation, but captures the essence and complements his works. It shares carnality, a gritty realism, the pain and desperation of being human. It's provocative. It's uncomfortable. It's the underbelly and grimness of life that too often goes unrecognized. Or if acknowledged, you numb it with alcohol; you engage in self-destructive behaviours; you mask it with eroticism; you become a whore of an angel; you write. Whether these actions are to escape yourself or to regain feeling, it is human ~ it is pain ~ it's art if done with style ~ and, it's got soul.
Stefanie C
Super Reviewer
Storie di Ordinaria Follia (Tales of Ordinary Madness) Quotes
There are no approved quotes yet for this movie.