Stop Making Sense
(1984)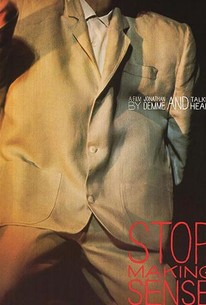 Movie Info
Stop Making Sense was the first feature-length documentary effort of filmmaker Jonathan Demme. The director's subject is The Talking Heads, a new-wave/pop-rock group comprised of David Byrne, Chris Franz, Tina Weymouth and Jerry Harrison. The film was made during a three-day concert gig at the Pantages Theater in Hollywood. What emerges on screen says as much about director Demme's taste and sensitivity as it does about the group and its visionary leader Byrne. Though some of the material in Stop Making Sense overlaps with the Talking Heads' earlier concert film The Name of This Band is Talking Heads, one never gets the feeling of by-the-numbers repetition; the group's energy is such that it virtually explodes from the screen. ~ Hal Erickson, Rovi
News & Interviews for Stop Making Sense
Critic Reviews for Stop Making Sense
Audience Reviews for Stop Making Sense
½
The cinematic technique is intriguing, and although it's unnoticeable to the audience's perspective the industrial details derived from this film are revolutionary. It's one of the most interesting concert documentaries of all time, and remains a unique experience with narrative, character, passion and creative innovation from all involved.
Bryce Iwaschuk
Super Reviewer
There's a line in School of Rock where Jack Black talks about rock-and-roll being killed by "a little thing called MTV". The aesthetic sensibility of MTV (rapid cuts, flashy close-ups and rampant product placement) was at odds with the more elaborate, experimental end of rock which reached its peak in the 1970s. How ironic, then, that as said channel reached its peak, a concert film should come along which completely rejected the pop video aesthetic and redefined an entire genre. Where Gimme Shelter and The Last Waltz captured the ends of their respective eras, Stop Making Sense is a showcase for Talking Heads at their artistic and musical peak. It is also the film which put Jonathan Demme on the map; seven years later, he would win five Oscars (including Best Director) for The Silence of the Lambs. But looking at the film twenty-six years on, there is something faintly elegiac about it. It contains none of the vapid self-promotion which has dogged more recent concert movies, from Shine a Light to Rattle and Hum. For a film about looking at a group of musicians for ninety minutes, Stop Making Sense is surprisingly cine-literate. The opening credits, with its elongated blank-and-white font, is an obvious reference to Dr. Strangelove (fittingly, since they were designed by the same man). David Byrne's 'machine gun stagger' across the stage during 'Psycho Killer' is a nod to the death scene at the end of A Bout de Souffle. More than that, though, the film is genuinely cinematic in a way that concert films very often aren't. Demme has always been an unfussy, understated director, and his camera is always keeping up with the players rather than the other way around. He possesses great technical know-how, knowing what to put the camera and how to shoot a performance so that the actors (or musicians) can just do their thing. Despite the level of meticulous planning that went into the tour, you get a real sense of kinetic energy existing on stage, something that a fussier director would quickly undermine. Stop Making Sense is a showcase of Talking Heads at their very best, shortly after the release of Speaking In Tongues had brought them screaming into the mainstream. Their song-writing and musicianship is superb, producing a series of really catchy, rhythmical songs with ample room for improvisation. While later albums were dominated by David Byrne, here it feels like all four members are on the same page, working towards the same ends. But you don't have to be a fan of Talking Heads to understand just what makes this moment in their career so special. For one thing, the film demonstrates a rare level of confidence and exuberance which is absent in so much of modern music (read closely, Lady Gaga: 'confidence' and 'shock value' are not the same thing). Normally it is considered anathema for stage crew and roadies to share the stage with performers, unless there was an urgent technical problem that needed attention. But in Stop Making Sense, the stage crew are on for much of the first half, moving around equipment in the middle of songs; the band play on regardless, and even bring them all on at the end as a thank-you gesture. And then there is David Byrne, who in this film is confidence personified. Byrne has always been a charismatic front-man, but here he is positively hypnotic right from the opening. His jerky head moments, powerful voice and frenzied eyes lead you to focus only on him; during 'Psycho Killer', he holds the whole Pantages audience right in the palm of his hand. When he dances, his body moves like it's made out of plasticene, capable of being bent in all directions in perfect time to the music. His energetic repertoire ranges from doing laps of the stage being chased by a searchlight ('Life During Wartime') to cradling a lamp in his arms ('Naïve Melody (This Must Be The Place)'). And then there is 'the big suit', inspired by Japanese noh theatre, which is quite simply too cool for words. The film contains a number of interesting creative decisions which both add to the impact of the concert and make the film more cinematic. Stage crew notwithstanding, the band come on one at a time, only reaching full strength during 'Burning Down The House'. This is a great decision because it highlights the individual talent of the musicians, and creates some form of narrative thread without resorting to pretentious prog rock narration. Byrne was very keen that there be as few distractions on stage as possible, to focus both the performers and the audience. To this end there are no water bottles, which could reflect the light, and all the amplifiers and musical branding have been painted over in matte black. There is also no coloured lighting, with Demme and cinematographer Jordan Cronenweth using several interesting means to get around this. During 'Once In A Lifetime', Byrne is lit up while the rest of the band are in darkness, and in 'Girlfriend Is Better', a technician walks around with a portable light, steadily moving turning instrument (and the big suit) into a series of creepy shadows. But the biggest innovation of Stop Making Sense comes in the relationship it strikes up between performers and audience. There are very few shots of the Pantages' crowd until the very last song of the show, and the recordings of their applause is turned down and pushed to the bottom of the mix. This makes the whole film feel incredibly intimate, like it's just you and the band having a long chat. In something like U2-3D, the audience are put in the middle of a cheering crowd; their vision is obscured by waving hands and bobbing heads, and the experience is deeply claustrophobic. A show like this resembles an elaborate worship ceremony, with the band 'playing God' and inciting frenzied belief among those who have entered the temple. In Stop Making Sense, you still get the atmosphere, but everything is more settled and understated. While U2 fight to the last man for appreciation, Talking Heads know how good they are: they have nothing to prove, which means everyone can relax and just enjoy the music. There are a couple of false notes which undermine the film's status as "the Citizen Kane of the concert movies". The first is the very common mistake of mismatched film and audio. Because the film was shot over three nights, there are a number of amusing continuity errors - for instance, Tina Weymouth's bass keeps changing colour. More troublingly, Chris Frantz will sometimes hit a cymbal, or a guitarist strike a chord, and no sound will come out. This is partly understandable given the arrangement of microphones, but for purists it can very be annoying. The other issue is perhaps more petty, and that is the appearance of The Tom Tom Club, the spin-off band of Tina Weymouth and Chris Frantz. Midway through the second half, they come on to perform 'Genius Of Love' while Byrne goes off to put on the suit. You can understand this decision logistically, but the song itself is quite weak. Tina Weymouth's natural range and calm delivery is at odds with the prominent funk percussion and Frantz' powerful backbeats; it's like the singer from The Party trying to compete with a Brazilian samba orchestra. Despite these niggles, Stop Making Sense remains a remarkable piece of work, both for Demme and for Talking Heads. The fact that the band never toured again after this cements its status, and confirms its importance as a document of just how good they were. All of Demme's subsequent concert films, including the excellent Prairee Wind, owe a debt to this film, and it raised the bar for all concert movies to follow. Most of all, it proves the value of the music even to people indifferent towards the band, and for that feat alone it deserves the highest praise.
Daniel Mumby
Super Reviewer
High energy concert featuring the Talking Heads. If this doesn't make you want to get up and dance, there is something seriously off. The music is infectious, the band is at the top of their form, the stage is sparse, the lighting is dramatic, the camera work is phenomenal, and David Byrne is a genius. I haven't had this much fun in a while. No time is wasted on innocuous commentary or interviews, just all music, all the time. I only wish I could have been there. It just doesn't get any better than this.
Mark Abell
Super Reviewer
Stop Making Sense Quotes
There are no approved quotes yet for this movie.